Swing-arm Kerosene Wall Lamp
Here's another real quick project, the two donor lamps are below, both came from our town dump this past weekend.  This will be my first lamp with a glass font.  Furthermore, this font has a hole in the bottom so I will be making liberal use of the non-traditional material; GE Silicon II Sealant.
The first step was to dis-assemble the two lamps.  I didn't strip the lacquer off of either because I won't be soldering anything but the #2 burner collar.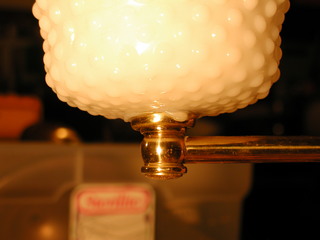 I used the lower brass cap from the floor lamp and a conical piece from the junk box to sandwich the bottom of the glass font.  I used lots of silicon seal and tightened this very gently.
Then I piled silicon seal all around and over the 3/8″ threaded pipe that holds the font to the swing arm.  Update: this worked for a while but the silicon eventually failed do to the constant contact with the kerosene.
Next I soldered the #2 screw collar to the brass cap and used more silicon seal to affix it to the top of the font.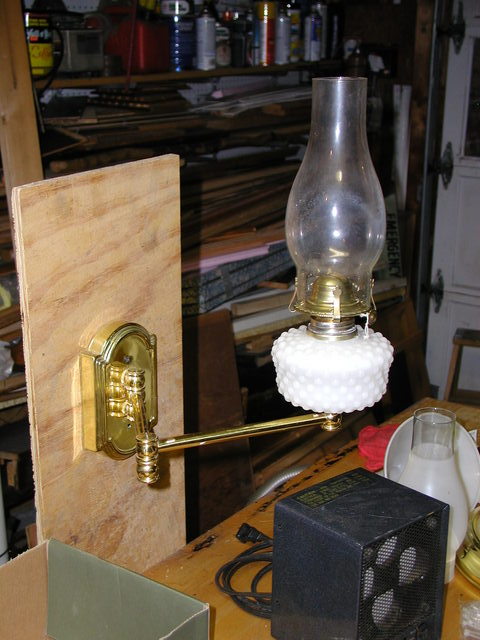 Here's the finished lamp full of kerosene.  It's been sitting in my garage for two weeks now with no sign of a leak.  I would like to add a shade to this lamp, but I haven't decided what kind. I'll post a picture of it when I do.