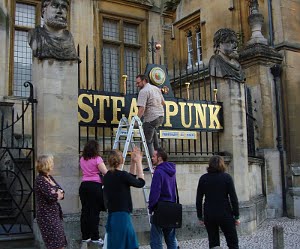 The Steampunk exhibition at the Oxford Museum of the History of Science opened yesterday!
I promise you that the art in this show is nothing like you have ever seen! Not to be "booster-ish" or anything, but I've had to wire my jaw closed after seeing the artist's works in the completed installation.
Dr. Bennett and his Museum Staff have presented an exhibition that is truly unique, culturally significant and absolutely unrivaled. (The private opening party tonight was astounding). Location: Broad Street, Oxford.
WIRED also has a nice slideshow with images of the artwork on display!