The Mae West, an Elegant Kerosene Lamp
This is another lamp for my bus conversion project, I think it will  go on a newel post by the entry door.  This is another quicky project, it took about 3 hours.
This lamp uses more parts from the above left donor lamp that provided the arm for the Quicky Sconce project. First step is, as usual, to strip off the factory lacquer finish. I spray on the remover, let it sit for 10 minutes and then scrub off the finish with steel wool. Wear nitrile gloves, eye protection and your work area should be well ventilated.
The next step was to attach the 3/8″ threaded rod "spine" to the font.  I used a brass cap inside and a brass nut outside. The hole in the bottom of the font piece was a little rough, I had to de-bur it with a large drill bit.  When I soldered the nut I discovered that the font was pot metal, not brass.  The flux removed some of the brass plating, fortunately it was in a place that will not be visible.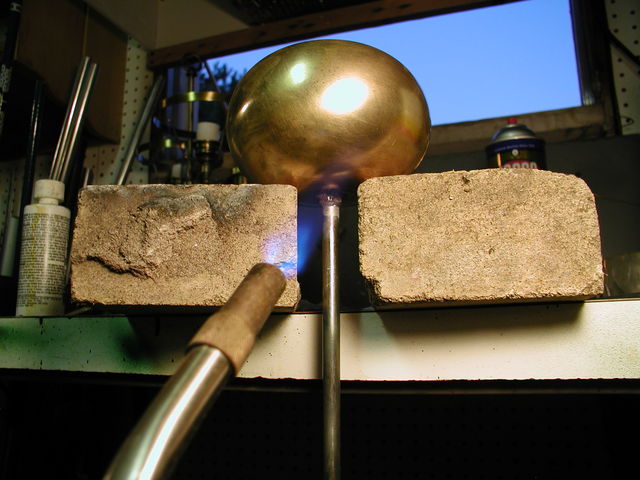 After soldering the outside, I dribbled in some flux and sealed the bottom of the font with solder and assembled the pieces with a nut, lock, and flat washer under the square base.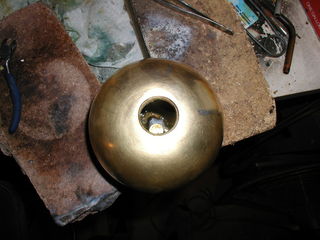 The base was not level so I fit the burner collar a little off-center to compensate.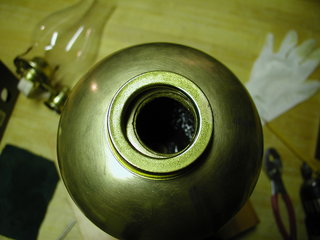 Here is the assembled lamp ready for polishing and lacquering.
And here is the finished lamp.  I'm really happy with this one, the proportions work really well, it's sexy in a Mae West kinda way.