Jake's Busy Weekend, Make:TV and HUMANWINE
Continuing the tale of my long and busy weekend . . .
So a crew from PBS's new show Make:TV spent the weekend with me in the shop filming me at work. I re-created a couple of projects and made a coach lamp for the car, start to finish. That turned out to be really hard as I was creating from scrap brass and found objects a whole new piece that needed to be completed while the crew was still there.
When Make:TV was blocking out the schedule for their visit to Boston they asked me if there were more 'steampunk' people in the area doing big projects. I pointed them in the direction of M@ (Matt) and Holly and HUMANWINE.
. . .
HUMANWINE is a Boston based band that I met through David Dowling. They are in the process of converting an old school bus in which they will live and tour the country fueled by waste vegetable oil. David had put out a call for material donations and as it happened I had a bunch of appliances and material from the camper I stripped last year that I was happy to donate. M@ and David came out to my house a few weeks ago and I loaded David's Fit to the gunwales!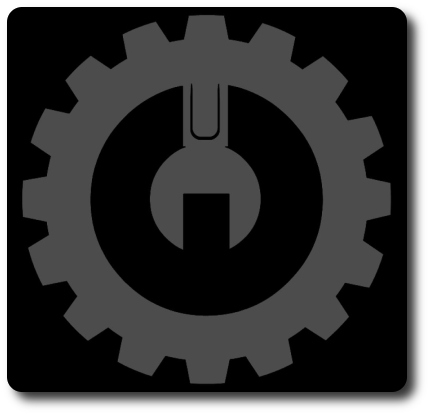 So on Sunday I met the TV crew in town and we shot some footage of me driving up and down Commonwealth Ave. in the car. Once that task was done we met with M@ and Holly in their converted bus. While HUMANWINE does not call themselves 'Steampunk,' they are hardcore D.I.Y. "DIY or Die!" in fact. They and their friends have done all of the work on the bus themselves with largely scavenged and donated materials.
They are also just about the nicest people I have ever met! Their bus, now their full time home, was delightful and cozy and reminded me of the house trucks I saw so many years ago that inspired me to do my own bus conversion. We talked for a while and then they departed to do a sound check for they had arraigned to do a small intimate show for the cameras and select friends.
This is where words fail me. Holy crap these guys are awesome! They have amazing energy and stage presence, they positively crackle with energy. I shot a little video, but it totally does not do them justice. Seek more on YouTube and then buy the CD.
This IS your new favorite band.
That's Jason the cameraman on the right filming Holly, this is the least blurry shot I have of her as she is constantly in motion in a way that gives you the impression that ALL of the music is coming from her, not just the vocals.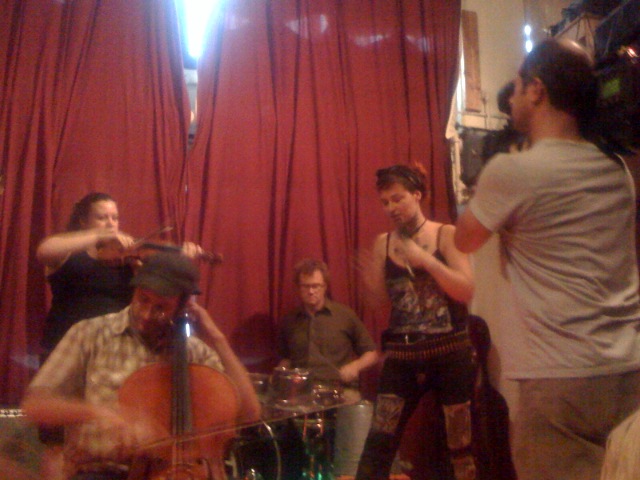 And this is M@, his voice has that delightful "Evil but Fun" carny sound. The violinist was really wonderful too as was the bass, cello and drums. Apparently the cellist had learned most of the songs only the night before and yet they were so tight!
Clearly consummate musicians all.