Books: The Graveyard Book – Neil Gaiman
The Graveyard Book is a straight-up children's novel. I searched around Neil Gaiman's shelf in the fantasy section of my local bookstore for quite a bit before thinking to check "Young Readers." However, adults who enjoy Gaiman's other work (especially Coraline) should not let this dissuade them from picking up a copy. While it does not contain the depth of American Gods or the subtle humor of Good Omens, The Graveyard Book is a pleasant break from more mature works of fiction. Gaiman's storytelling is good enough to transport one back to the days of elementary school and flashlights under the covers, and makes for an easy weekend read.
The novel is essentially a collection of short vignettes of the life of Bod (short for Nobody) Owens, a boy who is adopted as a baby by an entire graveyard after the horrific murder of his family by a man known simply as "Jack." Bod is raised by his adopted family, a pair of respectable ghosts known as Mr. and Mrs. Owens, his tutor Silas (who is neither dead nor alive), and a myriad of other ghostly figures.
. . .
Honestly, I was surprised by Gaiman's audacity in the first chapter of the book. It is a terrifying little description of homicide, not something that one would associate with children's literature. But this is something that has always been one of Gaiman's strengths. He writes to children with a great deal of emotional and intellectual honesty. Never is there a sentence that seems condescending or patronizing. Not actually being in the age range for which the book was intended, I am not certain how effective this is with young readers, but it makes for some good stories for older audiences. The prose is simple and straight to the point and the tales are quite imaginative and enjoyable, although they are all predictable (as a children's book well should be).
All-in-all, The Graveyard Book's an original and entertaining piece of work. I would recommend it to children and adults alike.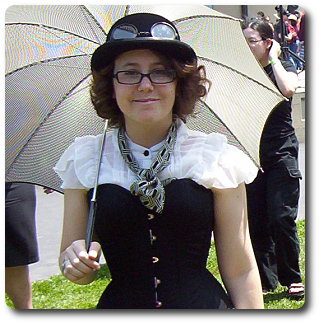 Photo courtesy of
Molly Friedrich
About the Reviewer:
Lady Almira Inchcombe is presently serving on the all-female crew of the H.M.S. Chronabelle, an airship docked in the San Francisco Bay Area. She is acting Weapons Specialist, Event Planner, and Book Enthusiast. A couple of years ago, she became interested in this strange thing called 'steampunk' and the rest is history. In her spare time, she goes by the pseudonym of Tessa, and masquerades as a student.