A Clockwork Guitar, the Steampunk Stratocaster
I have a Fender US Highway One series Stratocaster, which is a half decent guitar, but looks just like a million other Strats. I had been planning to replace the pick guard with a black mother of pearl guard but my experiments in electrolytic etching made me think I'd like to try something a bit more unique. Thus the Steampunk Strat was born.
I started by scanning the pick guard and printing out a bunch of copies that I could sketch on until I got the image that I wanted.
Next I carefully traced an outline of the pick guard and begun to draw my image. The concept was to make the pick guard look like a brass clock escapement with gears, cogs and a flywheel.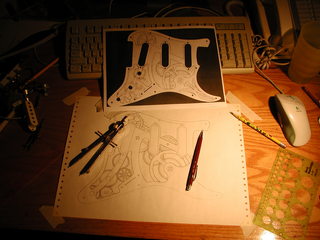 Google images was instrumental in finding images of clock escapements I could cadge features from. Once I had a good drawing I scanned it back into the computer and filled in the black area with the Gimp (a Linux image editor like Paint Shop Pro). This gave me a mock-up to test on the guitar.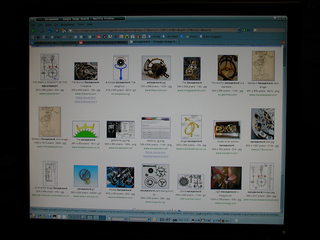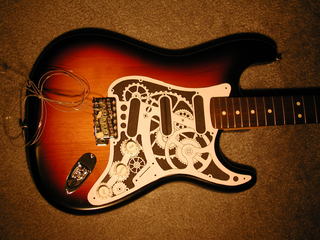 Next step was to cut the brass and to iron a laser printed reverse image on it. See my article on Electrolytic Etching for the details of that process.
There were some gaps and flaws in the toner mask so I touched it up with paint.
Into the copper sulfate bath, I made a nice cathode grid and a new plate holder out of brazing rod for this project.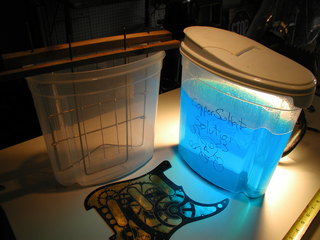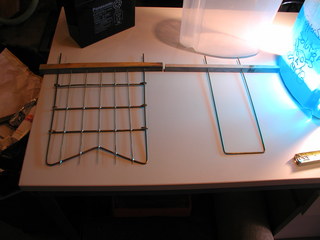 Mysterious energies etch away the copper and zinc components of the brass. I love that blue!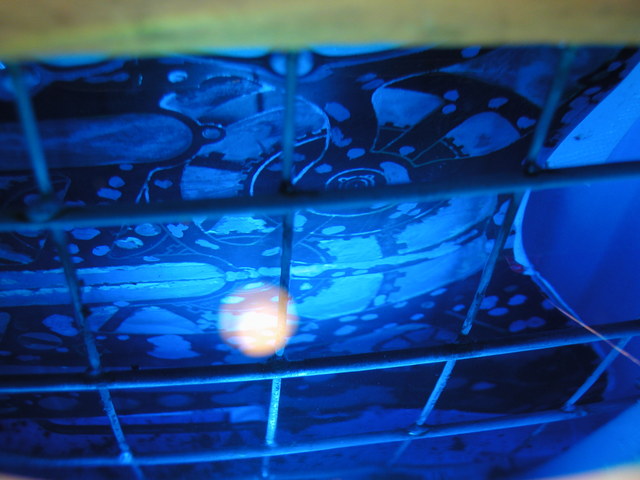 The etched pick guard was cleaned up with steel wool, drilled and the pickup holes cut out. Then painted with 2 coats of Krylon Ultra Flat Black.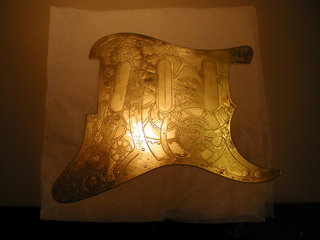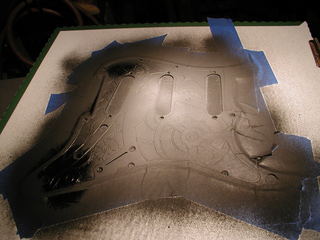 After the paint dried overnight I sanded away the high spots, polished it a little with some more steel wool and gave it a couple of coats of lacquer.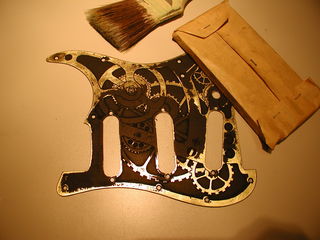 I painted the pickup covers and knobs with Krylon Plastic Fusion paint and re-assembled the pick guard to the guitar. If you are interesting in making your own,
the original artwork can be found here
.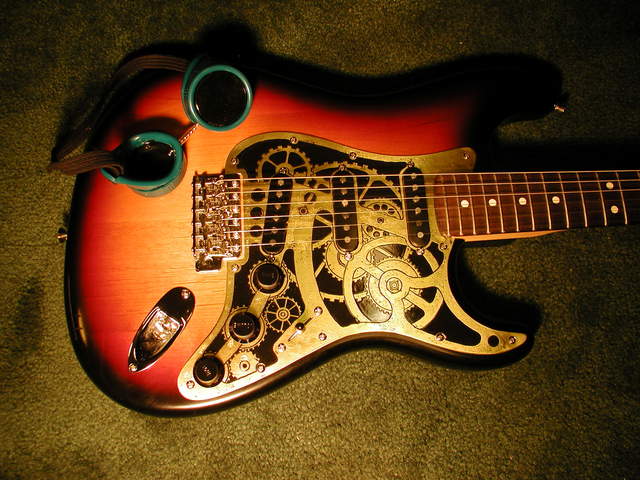 The finished Clockwork Steampunk Stratocaster !