WW-II Vintage Homemade Welder
I found this welder on Craigslist for hundred dollars. It's made with a World War II surplus aircraft generator and the engine from a 1946 Austin Dorset. It's a 200 Amp DC welder with a four-cylinder pushrod engine. This is a first look at it and there will be more videos as I get it running and clean up this piece of DIY history. Stay tuned.
I estimate the welder to weigh about 700 pounds. It has a 200 amp Delco Remy P1 aircraft generator, powered by a 1946 Austin Dorset four-cylinder pushrod engine. In addition it has a 12 V generator for the charging system, a voltage regulator, and electric starter.
The controls are minimal. There is a rheostat to control the field current to the generator to set the welding amperage. In a voltage gauge for same.
There's an ignition switch, starter switch, and choked to control the engine.
The generator is driven by a timing chain rather than a V-belt. This means no slipping under heavy load!
This is the Delco Remy aircraft a generator. As I said earlier, it's 24 V 200 and DC.
The coil in the upper right part of the image is an arc stabilizer. It's an inductor that smooths out the welding arc. At the end of the arc stabilizer there are a pair of contacts, when you begin to weld the contacts close and energize a solenoid that opens the throttle and brings the machine up to welding speed.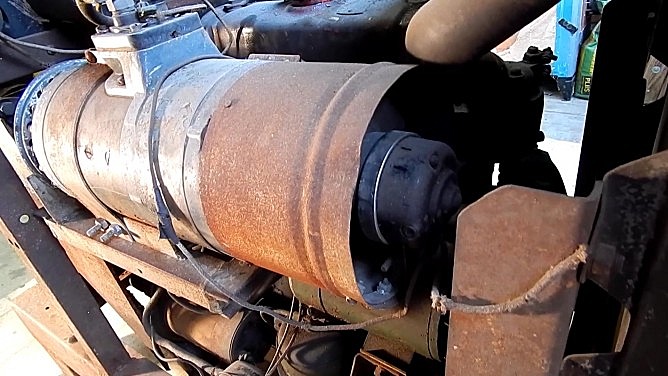 There's a 12 V fan at the back of the generator, my understanding is that these generators if provided with cooling like this fan, are continuous duty machines.
I have not gotten the welder to start yet, I did weld on a set of wheels so I could move it around the shop more easily. Initial investigations show that there is no spark and I suspect the Lucas electrics. I do plan to get it running very soon and I'll be back with pictures and videos of the machine running and welding.