Victorian Marquetry LCD Monitor
Jonathan Writes:
. . .I'm a computer engineer and cut marquetry part time so i decided to combine the two and fashion a monitor of my own. It's seemingly a lot more difficult to get good quality brassware here in England than it is in the states so i made it all in wood, veneered in burr walnut and inlaid with yew wood marquetry and box wood stringing, finished with brass handles and finials. I know its not quite typicaly steampunk but it is a faithfull (ish) reproduction of a Victorian toilet mirror, complete with drawers and as i have never seen one done quite like this i thought it worth sharing . . .
It sure is worth sharing! It's gorgeous!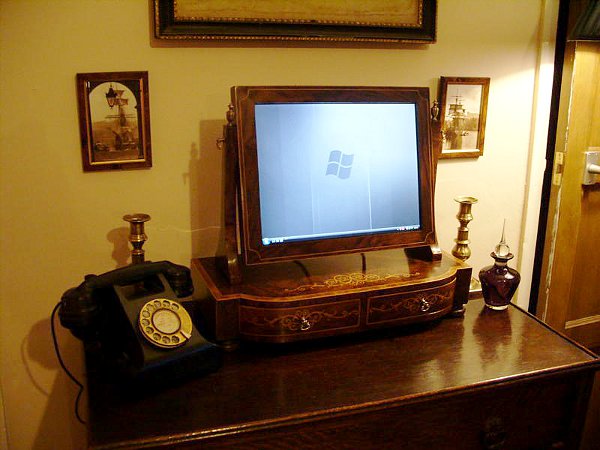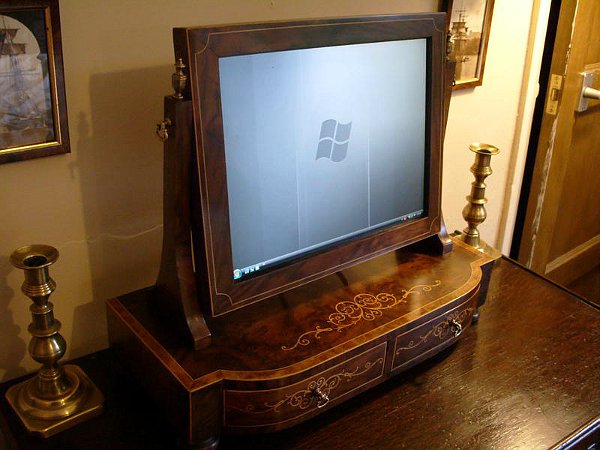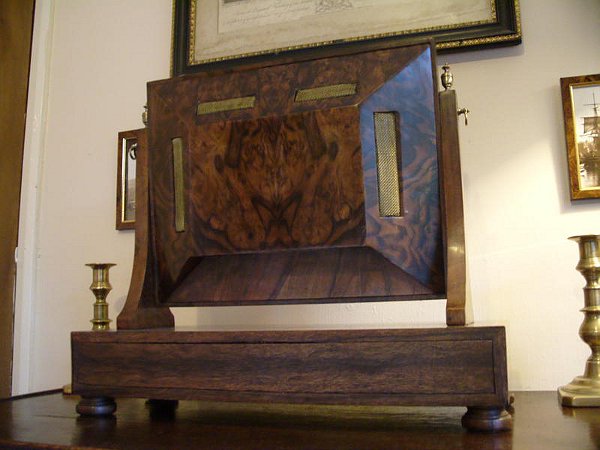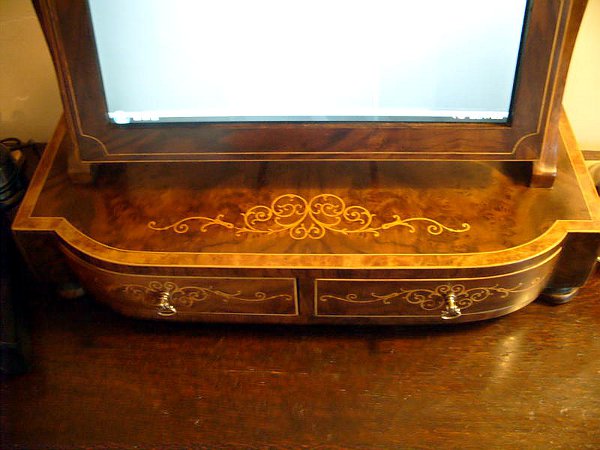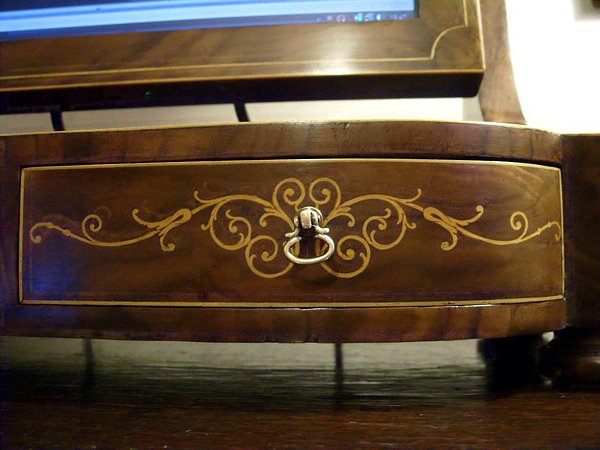 Jonathan continues:
This one was a bit of a prototype, made with an old dell E156FPc (i think) from the workshop, but i'm going to be making another one using a 20" samsung with more elaborate woods and inlay, i have a real humdinger planned.
Jonathan is considering making more monitors, if you're interested you can contact him here: jonylightning @ btinternet.com
---
While I have you here please check out this Kickstarter project and donate if you can. Virtuoso is one of the most interesting project I've come across in a while.

Virtuoso – Help Kickstart this Open Source Business/Comic/Universe!
"Virtuoso," a Creative Commons licensed comic from friends Jon Munger and Krista Brennan.
Jon and Krista are hoping to Kickstart Book One of the series, they have already completed the prologue and it is as engaging as it is beautiful. I'm in, and I hope you too will help them bring this marvelous project into the world!
The story: Jnembi Osse is an inventor in a world run by springs and ruthless expansion. She is the kept woman of the vast Mahanake Empire, held in a sequestered University to churn out military and civil inventions. But Jnembi has a secret.
Rather than endlessly revisit her old rifle designs, Jnembi builds a printing press a single person can carry on her back. It's small and simple, and violates the draconian laws of the Empire. Books are the purview of upper class, and copying them is ruthlessly suppressed.
Why it's even cooler: We believe that Virtuoso is more than a comic book. The comic itself is simply an artifact of this world Krista and I started. We have partnered with some of the most talented Makers working right now to bring more of the
Lastwear Clothing and Improbable Cog have both contributed their considerable talents to Virtuoso. As a reward for your donations, they are giving away products that you simply can't find anywhere else.
And this is just the beginning. We have plans for Role Playing Games, Board Games, short stories and yes, more comic books. Join the Empire. Make it your own.
Win a von Slatt original! To sweeten the deal and in addition to the offered rewards, the single largest contributor will receive an original Jake von Slatt creation! This will be a piece that is just staring to come together on my workbench as we speak. I'm not sure what is is yet but it fits inside a #2 Bell Jar and will look great on your mantle! Be sure to pad your big pledge by a few extra bucks, it would be a shame to miss out to someone who pledged just a tiny bit more!