SteamPunk Magazine author and G20 protests – Update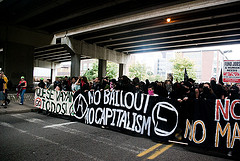 Over at Birds Before the Storm Margaret Killjoy tells a disturbing tale of police response to demonstrations at the G20 in Pittsburgh. One of the people arrested is SteamPunk Magazine author Professor Calamity and he is being held on felony charges for 'tweeting' police movements during the protests. To be honest I have not been following the protests closely, but on the face of it these charges seem ridiculous and the polices response scarily overblown.
New 10/21: Updates on Professor Calamity and Tortuga House
New 11/3: All charges against the pittsburgh twitterers have been dropped!
[Thank goodness! – Jake.]
SteamPunk Magazine author (and, honestly, the inspiration for SteamPunk Magazine) Professor Calamity is facing two felonies for allegedly running a twitter account. He has been accused of running a twitter feed of police movements during the Pittsburgh G-20 protests, protests for which the police are already being sued.
To add insult to felony charges, they raided his house in NYC for 16 hours, confiscating everything from hammers to computers to SteamPunk Magazine. Their lawyer has already convinced a judge to put a stop on the police searching of their personal possessions, because the raid is absolutely insane.
Okay, Steampunk, here's your chance to prove you're a community. Professor Calamity is one of our founding thinkers. Even if he wasn't, he's one of us, and he's facing absolutely batshit bullshit charges and ought to be supported. I'm asking that we make this news, because it ought to be news. This is insane. Read the rest here [Photo of G20 protests from Magpie's Flickr Stream]