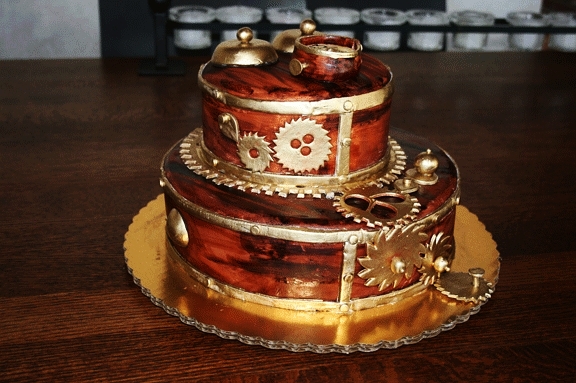 A friend overheard a karate classmate, a professional baker, mention that she had just created a cake for a client in a "Steam Punk" style and that prior to this order she had not heard of Steampunk. Well, my spy collected this intelligence and forwarded it to The Lady von Slatt who brought it to my attention this morning.
I contacted Karen Collins of Babycakes in Boxborough, Massachusetts (just a stone's throw from the Steampunk Workshop) and she kindly forwarded pictures! I think she did an absolutely terrific job of living up to Babycake's mission statement with this, her first foray in the world of Steampunk:
Be it the humble chocolate chunk cookie or a wedding cake for four hundred, I give my complete attention to every confection I make, from my choice of the highest quality ingredients to the time I spend making every item uniquely stunning. My goal is to thrill the senses and to treat each of my customers to a moment of sweet perfection.
Four more pics after the cut!