SPWS at Maker Faire: Austin!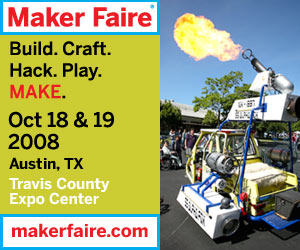 I'm still wandering around the country, but on October 18th and 19th I will be wandering somewhere in particular- somewhere awesome.
That place is, of course, Austin, for Maker Faire!
Maker Faire in San Francisco was full of awesome- stuffed to the mechanical gills with projects, geeks, geeky projects, and of course, a healthy dose of delicious beer. I'm sure Maker Faire: Austin will be the same.
I'm particurally excited about the King Of Fling contest– seriously, there is nothing more awesome, more soul satisfying, and hell, more American– than heaving into the air objects not known to fly just to hear them go crunch as they meet their terrestrial doom. You should come. We'll have fun.