Victorian Organ Command Desk & Steampunk Home Tour
You'll recall I recently visited the Steampunk home of Bruce and Melanie Rosenbaum. During that visit Bruce showed me a partially finished project that I decided really needed a story of it's own when it was completed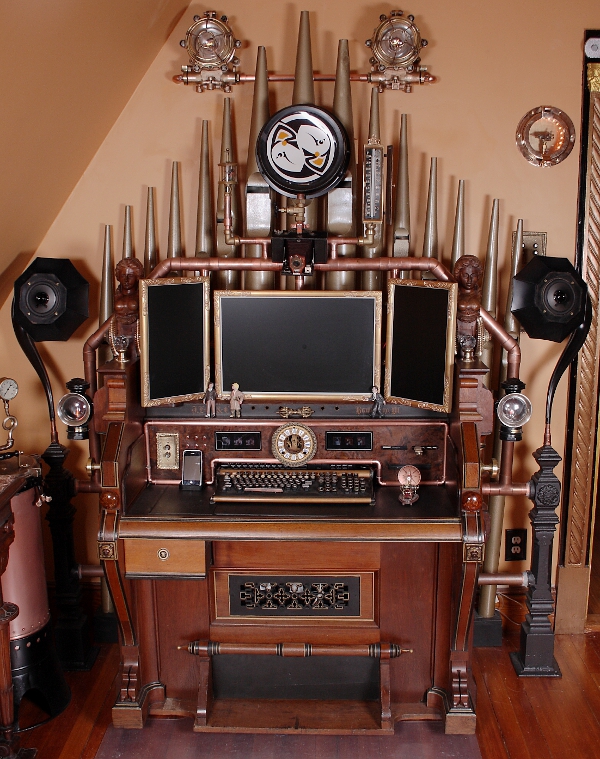 This is the "Victorian Organ Command Desk" that Bruce commissioned. It's made from bits and pieces of Victorian detritus that Bruce had collected including the carcass of a 19th century pump organ.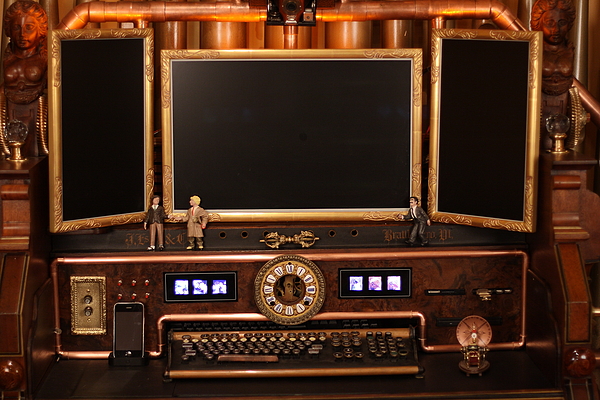 All of the major components are in fact authentic Victorian antiques, period reproductions, or salvaged items. You'll note the organ pipes mounted on the wall behind the console. Yes they are indeed upside down, but that's OK because they were never functional. Apparently it was common for chapel organ installations to have fancy but non-functional pipes prominently mounted in the church while the actual functional, and less beautiful, pipes were hidden away.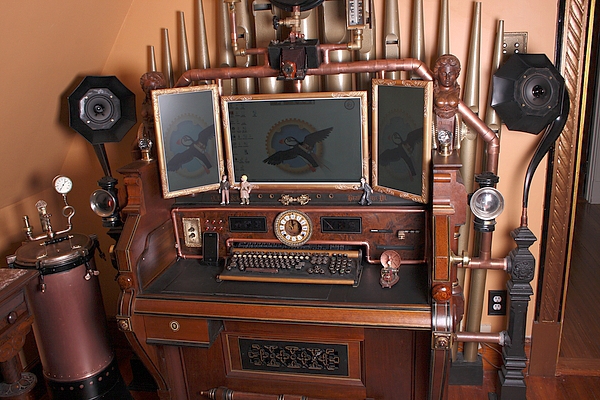 It took 6 months to build using four different crafts persons to design the desk, restore and modify the antiques, and install the computer systems. Included in this all-in-one workstation desk are fully integrated electronics including 3 monitors, computer, printer, scanner and webcam. The horn speakers on either side are installed in cast iron stanchions and modified with modern acoustic suspension drivers. I got a chance to hear them and they really sound quite nice!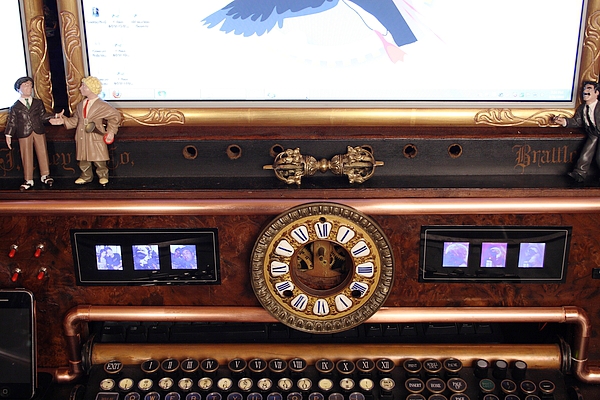 The gorgeous clock face on the 'dashboard' is flanked by 6 LCD digital picture frame displays that featured rotating images of Bruce's friends and family.
The desktop included an iPhone doc and a document scanner hidden under a leather lined panel beneath the keyboard.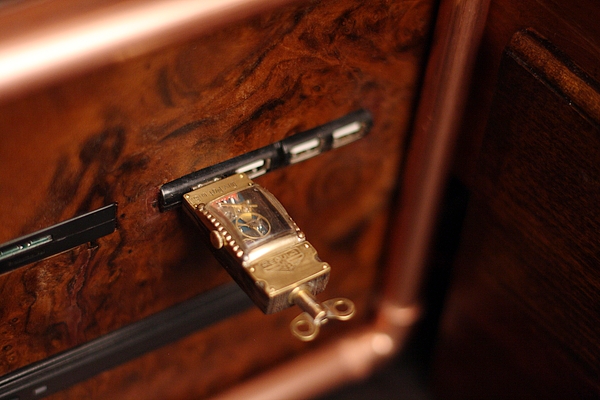 USB and card media readers are available on the right side of the burl walnut dashboard.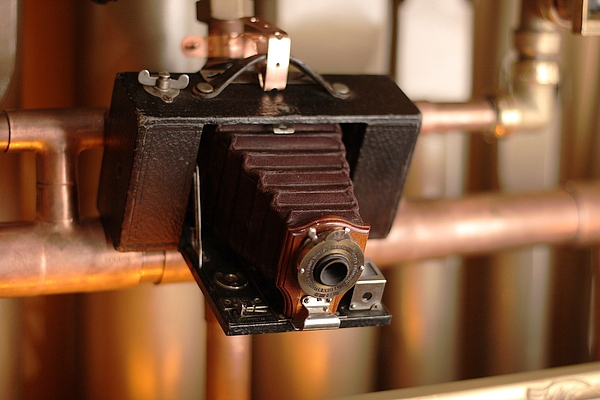 The webcam is located above and center in this modified film camera. This was one of the few components of the desk that was complete and original a s found so it has been carefully modified such that all changes are completely reversible.
Printer paper is loaded from the side of the console via this tray.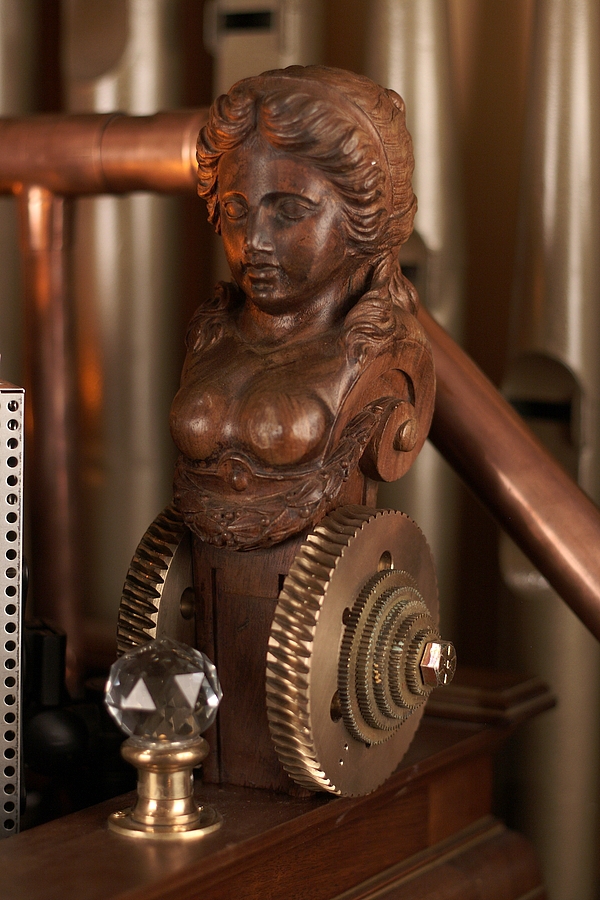 Carved and be-geared oaken busts flank the console.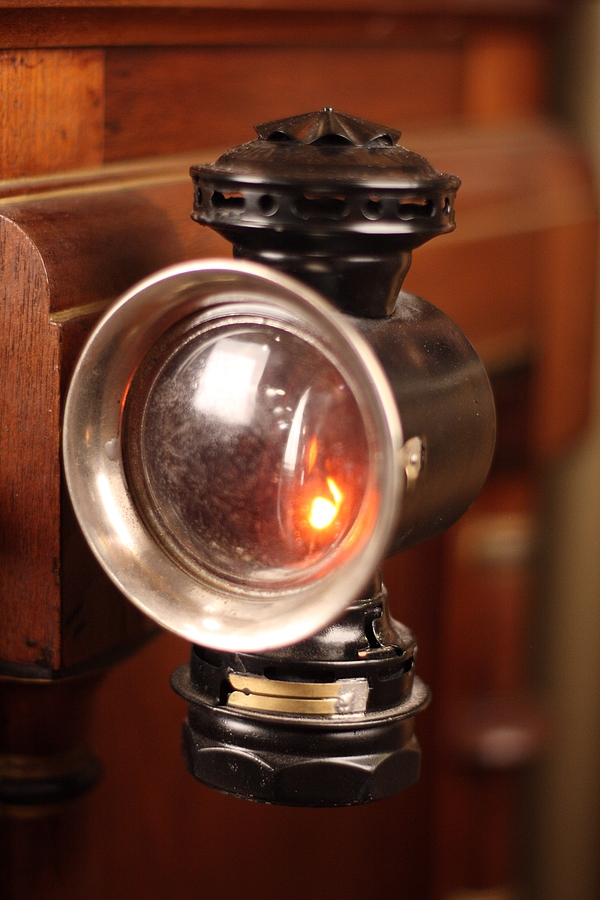 A pair of coach lamps with neon flicker bulbs provide suitable ambient lighting.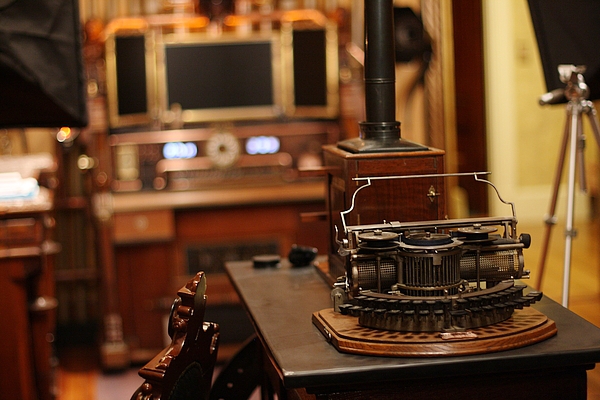 Bruce's study is a wonder of collectibles and steampunk bric-a-brack, including this beautiful typewriter and Magic Lantern.
The typewriter is really in pristine condition!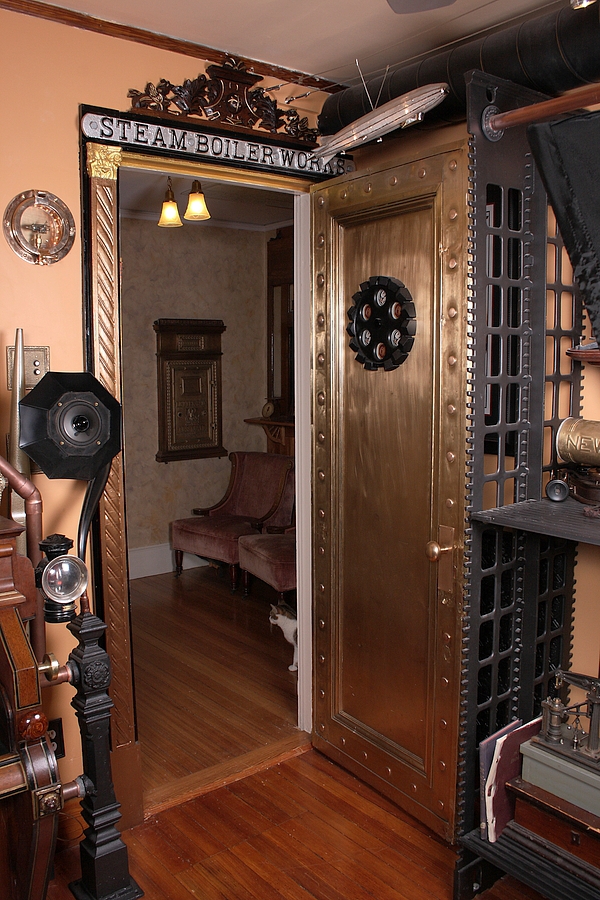 Another recent addition to Bruce's study that had yet to be installed on my last visit was this fabulous bronze door, it must literally weigh a ton!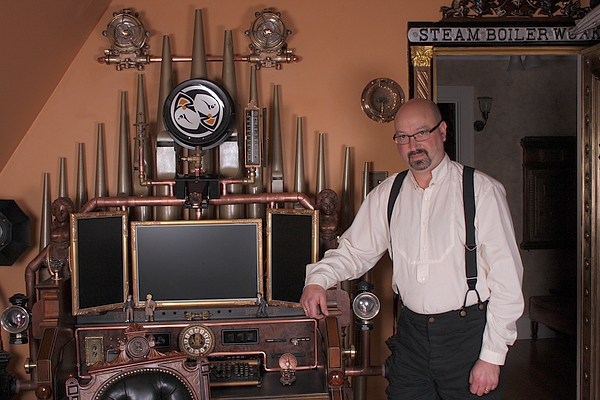 The Proud owner and his workstation.
Call Bruce at ModVic 781.784.0250 or visit www.modvic.com if you're interested in having a custom Victorian Pump Organ Cockpit Desk made for you.
For a virtual tour you can take right now Click Here!
Would like to see these wonders for yourself ? Well, you can do that too! Read on!
Visit the amazing "Steampunk House" In Sharon, MA. Sunday, May 2, 2010 from 1-4PM
Take advantage of this unique opportunity to tour the much talked about "Steampunk House". Owners Bruce and Melanie Rosenbaum of ModVic (Modern Victorian Home Restoration) have graciously agreed to allow their celebrated Steampunk Home to be included in the Sharon Historical Society's 2010 Old House Tour. The Steampunk House is so named because of the of the remarkable modern Victorian gadgetry and inventions found throughout. This lovely 1901 Victorian Craftsman home features leaded glass windows, Eastlake style antique furniture and numerous Modern Victorian innovations. Antique elements and salvaged fragments have been adapted to create fascinating Steampunk appliances, electronics and art.
The Sharon, Massachusetts Historical Society's Old House Tour will take place on Sunday, May 2nd, 2010, from 1:00 PM to 4:00 PM, rain or shine. This year's tour will feature five architecturally significant homes, including the remarkable "Steampunk House". The self-guided tour of these charming private homes affords the opportunity to explore their wonderful architecture and décor. Guides will be available to discuss the significant features of each.
A very special Arts & Crafts style home will also be on the tour. It was featured in the early summer 2009 issue of Arts & Crafts Homes magazine. Often referred to as "the prettiest house in Sharon", this beautifully restored Craftsman style home features an eclectic mix of furniture and stained glass, surrounded by beautiful gardens. The owners spent six years converting a 1940's bungalow into this charming Arts & Crafts gem.
Also see a shingle-style Victorian which has been completely restored, but maintains its antique charm. Antique furnishings and a unique carriage house make it interesting, but climbing the stairs to an observatory-type turret with a 360 degree view is really worth the trip. A delightful artist's cottage in the trees and a grand Newport-style country home with a tree sided wrap around stone veranda round out the tour. The latter was built on spec by a wealthy German brewer in 1898. Over four thousand square feet of living space and a 100+ year old copper beech tree make this home worth a look.
For photos of the houses and more information, visit sharonhistoricalsociety.org. Tickets are $16. per person for members (SHS dues are only $19./year) and $20.00 for non-members. Checks should be made payable to the "Sharon Historical Society." Advance order tickets can be purchased at the Museum, 16 High St. Sharon, MA 02067. On the day of the tour, tickets will be available at all five of the homes, and at the Museum. All funds that are raised will benefit the Society and its important programs. We receive no funding from the town or the state. Call the Society at 781-784-9966 or Gary Sullivan at 617-974-1141 for more information.