New England Steampunk Festival at the Charles River Museum of Industry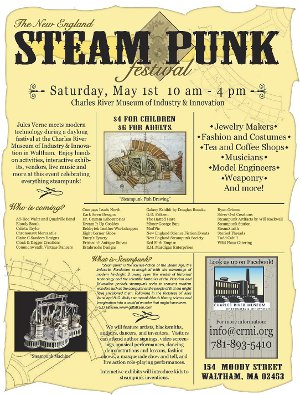 From the flyer:
Jules Verne meets modern technology during a daylong festival at the Charles River Museum of Industry & Innovation in Waltham. Enjoy hands on activities, interactive exhibits, vendors, live music and more at this event celebrating everything steampunk!
This looks like a lot of fun! Click on the flyer or
download the PDF
for more information!
The
Charles River Museum of Industry
is really a wonderful place and I've been there myself many times. Alas, they are closed to the public at the moment while they conserve and repair exhibits which were damaged in the recent flooding of the Charles River.
The Steampunk Festival itself was originally scheduled in April but was moved back to May 1st in response to the flooding situation. Please show up and support this wonderful resource for Steampunks in the region!