Make: Magazine – Build a Wimshurst Influence Machine
Look what I found in my mailbox today!
Sometime during Maker Faire last year Gareth Branwyn mentioned to me that he would be editing a "Lost Knowledge" issue of Make: Magazine and that I should consider writing an article. Of course, I immediately replied: "Dude! count me in!"
UPDATE: Plans for my Wimshurst Machine are now available here!
My next reaction was: OMG! what am I going to write!? Then I thought: WRITE?! I don't write stuff, I make stuff. The biggest thing I've ever written was a ten page paper for Cultural Anthropology in college and that was pure bulls**t. But it was bulls**t for which I did get an "A," so maybe I could pull this off after all.
I have always wanted to build a Wimshurst electrostatic generator and I thought this might be a good opportunity to come up with a design. In addition, I heard from folks at Maker Faire that they would like to see a project that could be executed with simple hand tools and with materials that were readily available. I thought that this might be possible with a Wimshurst machine so off to Home Depot I went to wrangle some parts.
Developing the machine was an iterative process and I built three versions before I was happy. It was tough going at first because I had never even seen such a machine in person and was working in mid-summer in high humidity – a condition that is not at all conducive to the generation of high voltage electricity.
But on the third try I found I had created a machine that was capable of generating five inch long sparks!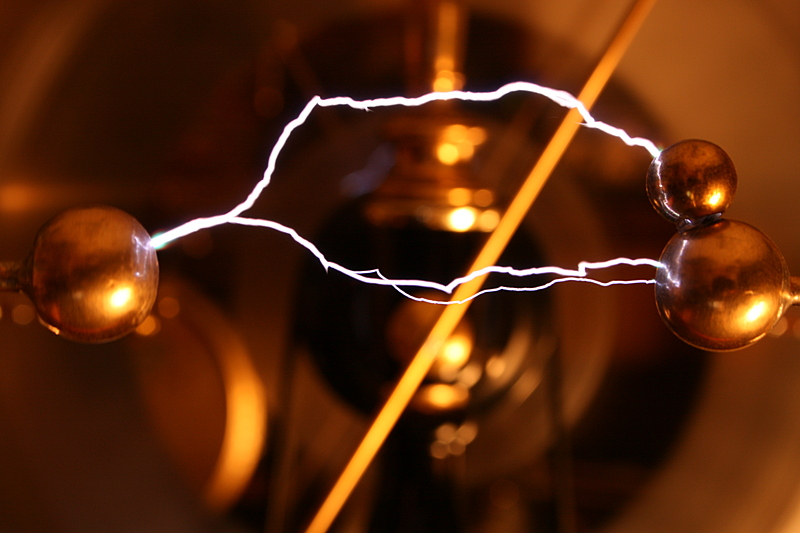 The folks at Make: were really wonderful and I'm quite happy with the final piece – my first published article!
Make: Magazine #17 hits newsstands on March 10th but if you've found this website at all interesting you are the sort of person who should subscribe to Make now!