JvS on Make:Talk – Podcast now available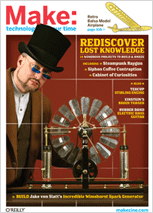 Hi Everyone!
I had the distinct pleasure of joining Mark Frauenfelder and Gareth Branwyn of Make: Magazine for the first ever Make:Talk live on Friday at 12 noon PST!
We talked about Make: #17 – The Lost Knowledge Issue:
MAKE Volume 17 goes really old school with the Lost Knowledge issue, featuring projects and articles covering the steampunk scene, makers creating their own alternative Victorian world through modified computers, phones, cars, costumes, and other fantastic creations.
Projects include an elegant Wimshurst Influence Machine, an electrostatic generator built entirely from Home Depot parts, a "Florentine Flask" siphon coffee brewer, and a tea cup-powered Stirling Engine. The section will also cover watchmaking, letterpress, the early multimedia art of William Blake, and other wondrous and lost (or fading) pre-20th century technologies.
Our guest is Gareth Branwyn, who edited this volume's special section. We'll also talk with Jake von Slatt, creator of the Victorian-era Wimshurst Spark Generator that appears on the cover of our current issue.
More information is here and you can listen via the widget on this page.

UPDATE: Plans for my Wimshurst Machine are now available here!