Austin, Grackles, and the Junk King
I have been tootling around Austin for a couple days now, guided mainly by locals scribbling favored destination on scraps of paper. I've visited (and took a dip in) Austin's famed Barton Springs park ("dude" an old hippie told me "it's, like, Austin's spiritual center"), drank Shiner Bock at the Driskill Lounge while the jazz band played the Super Mario theme, astride a couch made of a cow; and I've been attacked by a flock of Grackles.
One thing that has been bothering me, however, has been the total prevalence of the "keep Austin weird!" bumper stickers I've seen gracing every bike, minivan, lunchbox- If you're from that area, it very much akin to the "keep Tahoe blue" stickers adhered to a million car bumpers. I've been having a great time, to be sure, but I was beginning to think that the slogan was more of a city aspiration than actual reality.
Then I met the Junk King, and his home made Cathedral.
Much more after the jump..
I had first heard about the Cathedral of Junk in a sort of off-hand manner, and nobody in the group (OK, bar) knew where it was or how to see it. After good round of googling, I found Vince.
Vince Hannemann has his number home number posted publicly. Calling him was slightly unnerving – how often do you call the artist/crazy person responsible for these things directly? He answered, much more youthful and friendly than expected.
"Sure, come on over. But it'll be getting dark here soon, so get over quick."
"what about tomorrow? would that be better?" There was an audible hesitation . . .
"oh. I don't want to think that far ahead".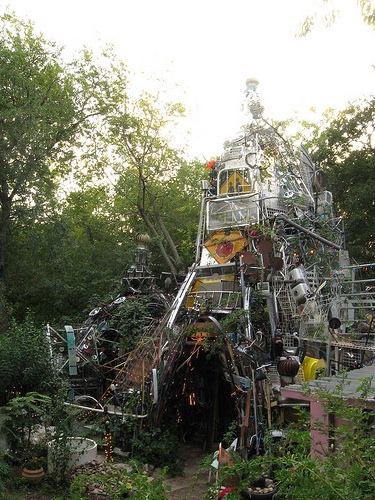 The Cathedral is located in the Junk King's backyard, which is situated in a rather nice residential neighborhood just off of Austin's swanky South Congress neighborhood. From the road, you can just see it peeking above the top of his house. As instructed, I just went around the back of the house, trough several chimed, adorned arches, and full face on with a mastery of eclecticism that is the Cathedral of Junk.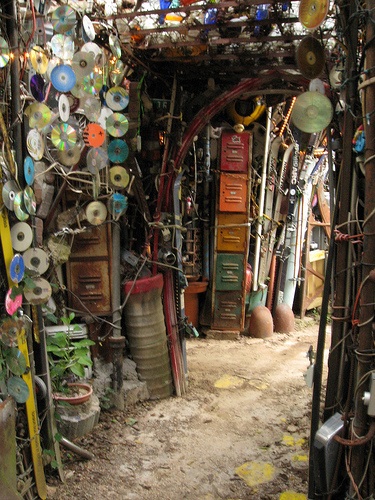 I suppose I should have interviewed Vince, asked him all sorts of questions- but immediately I was drawn into climbing all over the thing, through rooms adorned (constructed) out of used skis, licence plates, baby dolls; walls made of screen doors, stairs (to the second and yes, third levels) made out of computer towers and transmissions- all held together (pretty damn securely, I might add) with a hell of a lot of bailing wire and cement. Between climbing on trusses made of shopping carts and bridges out of- well, everything- I managed a few key questions. He's been building the Cathedral since 1988, when he was in his mid 20's.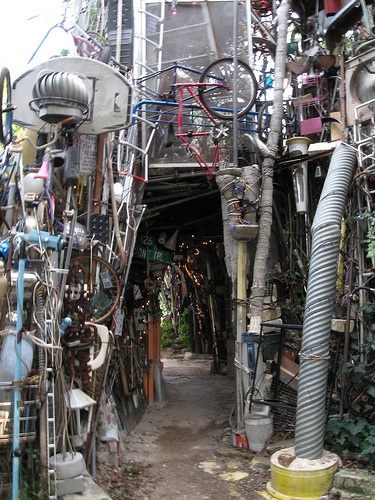 "When I started, I was renting this place" He says. "I figure, since the landlord didn't say anything- it was like a contract. A contractual agreement. When someone is building something like this in your backyard, you're going to have to sell it to them….I got the last good deal in Austin".
I had to know- what about the building inspectors?
He laughs, and motions to hand him the strand of Christmas lights to where he's perched on one of the spires.
"They'll come around, maybe once or twice a year. Less now. They say, they work on an 'anonymous complaint' basis. They'll come by, look around, and tell me to move some stuff off of my driveway out front. They'll come back in two weeks to check, see I did. Then say 'Can I bring my kids?'"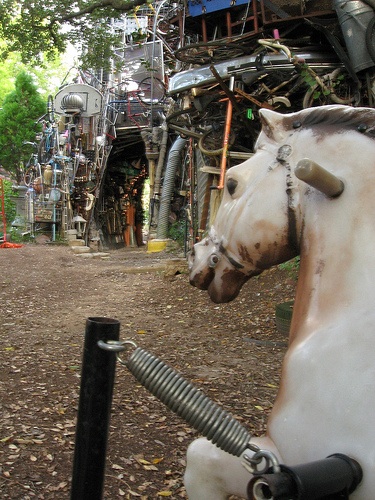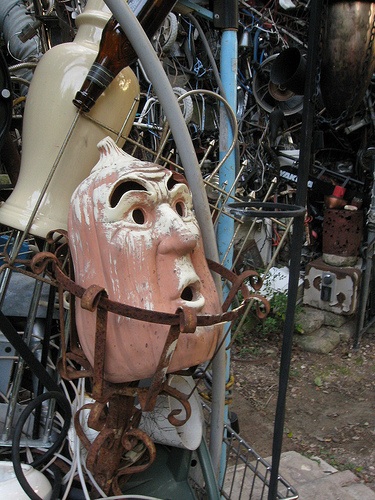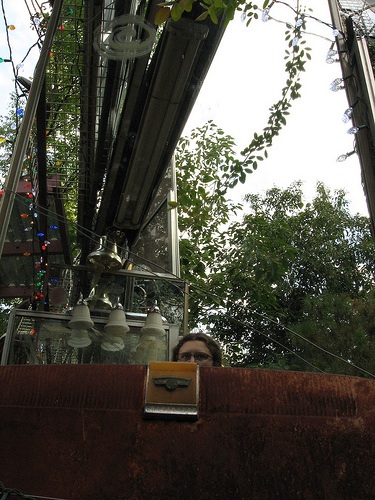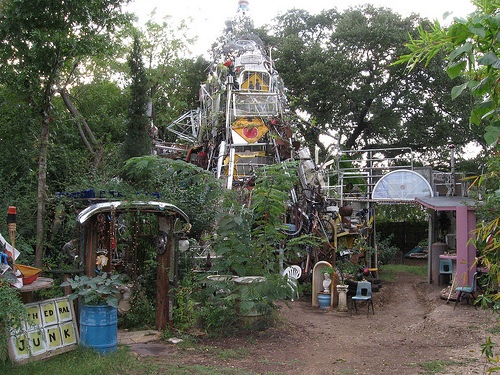 Special thanks to Patrick Murphy from Arc Attack for being a little kid with me here. Many more photos can be found on my flickr stream.

The Cathedral of Junk

4422 Lareina Drive, Austin, TX . Free, donations accepted.

By appointment only. Call Vince first — he has a day job. (Call to verify)

Phone: 512-299-7413