These Shoes Rule – for the Ladies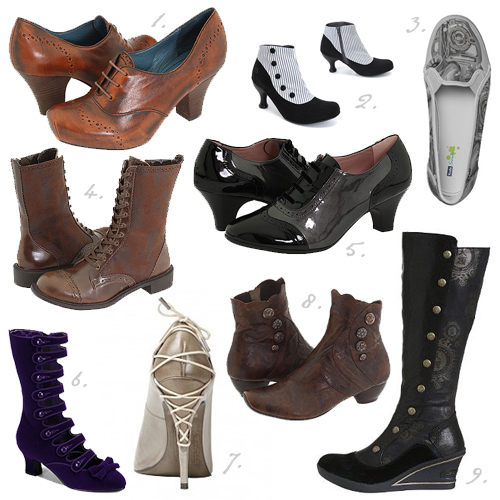 Someone once told me that the first things people look at when they meet you are your shoes and your hands. It's very easy to tell if someone uses their hands to make things as they tend to have callouses, weathered skin, and may have curious stains or broken nails. Shoe choice reads just as clearly–do your shoes match your outfit? Are they stylish and functional? Are they impractical, well-designed, worn out, or coated in dust from the workshop?
I personally love how shoes complete an outfit, and I have a special lust for vintage-influenced footwear, both practical and whimsical. It can be very difficult to acquire antique footwear that fits a modern foot–our predecessors often had shorter, narrower feet–or that hasn't been worn to death. I am fortunate enough to own a pair of 1930s oxfords that fit my slender feet, a set of antique leather roller skates, and some killer scarlet pointy-toed punk boots from back in the day. However, if you're not so lucky as to have a real vintage shoe collection, lots of modern shoes still nod at the past in their design (and fit bigger feet). There is nothing quite like the curve of a Louis heel, mmhmm.
Here's a selection of shoes (ranging from totally casual to super decadent) for the ladies I've found in scouring the interwebs that all have vintage flair. I'll be doing a similar post for you gentleman types, never you fear. 🙂 And hey, not all of these are brown and clunky! Yay! Let's get some SHOES!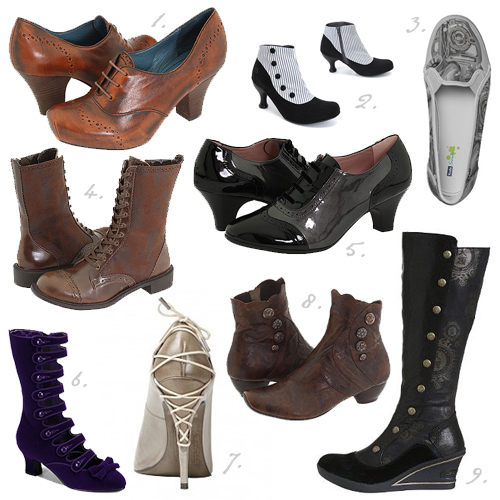 1. Nicole Open Up oxford, leather, in brown or gunmetal, $74.50
2. John Fluevog Bellevue Ida Clark, vegan, in black or purple, $269.00
3. Steampunk Anatomical custom canvas sneaker, vegan, in silver, $60.00
4. Dirty Laundry Lois Wax Out boot, vegan, in black or brown, $59.00
5. BeautiFeel Jordan oxford, leather, in black/grey patent or brown/bordo, $180.72
6. Merry Munchausen's Whimsical Ladies Boots, vegan, in red, purple, or black velvet, $52.95
7. AllSaints Vala Shoe with corset lacing, leather, in sygnet or black suede, $210.00
8. Think! 83252 boot, leather, in brown, $212.75
9. Jump Sparky wedge boot, leather, in brown or black suede, $41.71
Yay, shoes! Thanks.