Steampunk Couture Hot on the Runway (and We're Not Talking Airships)
Here at The Steampunk Workshop we are in the process of re-vamping our site to focus more on feature articles rather than short blog posts. In addition We're seeking writers to help us cover topics that we're interested in but know little about. Below is the first of those articles from Cicatrix13!  — Jake
Cicatrix13 is freelance writer and blogger.  She specializes in bringing an edgy perspective to political, Steampunk, and Dark Poetry pieces.  Her work has been published on websites such as HiveTimes.org.uk and The Steampunk Workshop.
Prada, Versace, Calvin Klein, these are iconic names in the industry of high fashion. They call to mind the recent fashion week grandeur in New York on the heels of Milan's fashion week earlier this year.  The fashion world is bustling with reviews and critiques of the lines exhibited by all the giants in the fashion world.  Purchasers are gearing up to stock their stores, such as Nordstrom's and Saks with the latest styles that have their consumers abuzz.  On every runway worldwide, designers are showcasing the ever-increasing popularity of once obscure Steampunk Couture.
Characterized by a culture of maker-artisans, Steampunk fashion, along with art, housewares, literature, modifications and any number of items one can think of, grows from a science fiction foundation including Victorian style and tech gadgetry.  This manifests as clockworks and corsets, cogs and goggles, boots and bustles, and a return to materials such as wood, metal, velvet, leather and lace.  Until recently it seemed as if the small, independent crafter nature of steampunk style was beyond the realm of the fashion industry.  However, recently several influential designers have started incorporating Steampunk elements into their lines.  Prada even went so far as to release an entire men's line tailored with the spark and sophistication of Steampunk.
The Fall 2012 line from Prada was a departure from typical style trendsetters.  This line featured a glitzy print campaign featuring seasoned male celebrities Gary Oldman and Willem Dafoe.  The clothing line included: well tailored suit jackets, double-breasted vests, long trench coats, bold stripes, accentuated collars, diverse patterns, and mixed materials such as leather and fur.  The fit of the clothes and the effect that the ensembles create is decidedly that of a bygone era, and boldly pushes mainstream fashions focus from the androgyny of hipster couture towards the highly individualized Steampunk style. In addition, this Prada line returns to classic bold patterns and stripes including mixed textiles, a throwback to classic couture, though a staple of Steampunk fashion. The choice by Prada to release the ad-campaign as a character-study, showcasing four actors via print media, effectively highlights the individual character inherent in this style of clothing.
For other designers the Steampunk influence has been less obvious. Versace's Spring 2013 line is pugilistic and decidedly not Steampunk except for some chic metallic leather cross body holsters.  These are so quintessentially Victorian, that over Donatella Versace's ultramodern suits, they are striking, though definitely harken back to their steamy inspiration. In more subtle ways, certain pieces such as long trench coats, for both men and women, have crept into major lines from Calvin Klein, Ferragamo and Burberry.  Burberry's Fall 2013 line also has a stunning punky bolero jacket in tan that complements several outfits in their new line, rife with big, bold buttons, another classic Steampunk element.  Both men's and women's fall lines from Valentino show an attention to detail and artisan quality that give many of their pieces an authentic quality reminiscent of the maker culture.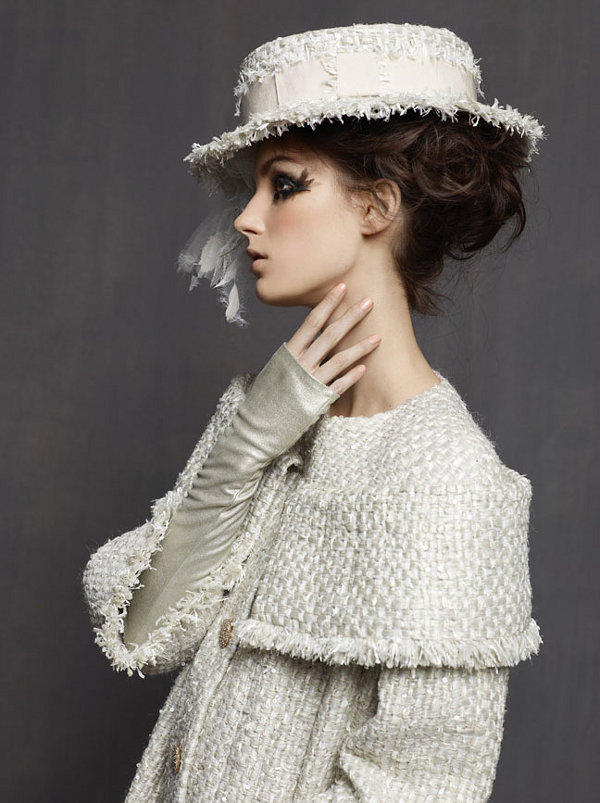 The Spring 2013 line from Chanel has several pieces that incorporate sheer panels, feathers and an overall ethereal, crossover Gothic/Steampunk/Victorian look.  Many designers have included opera length gloves as well as fascinator hair pieces.  Capes are also making a resurgence, made in an array of materials, in varying lengths, though the most common seems to be waist length.  The rising appeal of skeleton watches, where the mechanical gears and cogs are visible, have elicited major brands to release their own versions, including big names such as Armani and Kenneth Cole.  These are already available for purchase locally in stores such as Nordstrom's.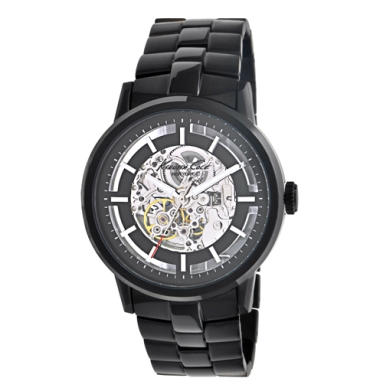 Culturally we have seen Steampunk make its way from the pages of sci-fi novels and a cult-like fan following, to the big screen in movies such as Sherlock Holmes and Sky Captain and the World of Tomorrow. The fashion and mystique has also mainstreamed into American homes via shows like America's Next Top Model, which featured an entire photo shoot for the models, showcasing the Steampunk theme via fashion and set design. As consumers continue to see this style highlighted by media influences, there will be a direct impact on its' allure and appeal.
These style trends are exploding from high-end couture lines through ready-to-wear lines.  This means that as they become more available for consumer purchase, we will see more of the Steampunk look incorporated into everyday fashion.  Part of the appeal of Steampunk fashion is that it is so highly individualized, it can be tailored to suit any given personality or situation, from workday to ballroom, from professor to airship pirate. This versatility has enabled the Steampunk convention to blend with other styles to create hybrids such as Steampunk Goth and Post-Apocalyptic Steampunk.
As the appeal of this style trend permeates throughout not only fashion subcultures, but the icons of the fashion world, this will have an impact on the maker-artisan foundation at the heart of the Steampunk movement.   Steampunk crafters take pride in creating unique pieces and styles, often developing their own persona from which they sell their wares.  Individual character is of penultimate importance, as is the development of one's own particular style.   As it becomes more widely available in retail stores, the trend will introduce more people to the sci-fi worlds at the core of the fashion.
This has happened before with such styles as Goth, which went through a period of becoming mainstreamed.  Now many elements of Goth fashion are commonplace across the broader market including choker necklaces, bolero shrugs, platforms boots, fishnet stockings, and double layered, waffle-knit t-shirts.  As a once fringe subculture enters the cultural consciousness, more people are drawn to the mythos that spawned the style.  A larger audience increases the demand for all things related to that subculture. Without the ability to discern quality versus sheer accessibility, this can have an effect of watering-down the content that becomes available over time.  However, as with previous genre mainstreaming, there will remain a passionate core of enthusiasts as well as new fans who become entrenched with the characters, histories, ideas, and imagination of Steampunk that keep the quality alive.
For the network of artisans and the small number of online (and even smaller number of brick and mortar) retailers currently selling Steampunk styles this will bring in some competition.  Consumers will soon be able to purchase styles at retail prices, from more accessible locations.  However, as aforementioned, the core of the Steampunk enthusiasts will likely find this to be a way to supplement their wardrobes with ready-to-wear pieces.  Inherent in Steampunk culture is a passion and respect for the creations of the artisans and a value for the craft work that they undertake.  The cost of their products is typically paid willingly as a reflection of this, with the underlying notion that one is supporting and promoting that maker/artisan.  This element of the culture will persist despite the mainstreaming of fashion.   Though prices may be driven down to some extent with this competition, even that would only serve to provide more accessibility to the style for those that may have otherwise not been able to afford it.  The retail pieces may serve as a a low cost alternative foundation for people to start crafting or modifying their own gear.
Steampunk couture making it's way toward the mainstream will have an impact on the current culture in both negative and positive ways.  The outlook for the long term is that this breakthrough into high fashion couture and its' subsequent permeation into ready-to-wear and retail fashion will ultimately provide more benefit to the enclave of sci-fi lovers and time-traveling victorian-era gadgeteers.  The history of other subcultures having undergone this transformation show that becoming part of the mainstream consciousness can make the foundational elements even stronger while attracting new fans.  If Steampunk embodies any idea it is the notion that what is old can become new and take on an even more glorious life.   That is most certainly the fate of Steampunk Couture as it breathes new life into vintage designs and captivates a new global audience.
Chanel image courtesy of Karl Lagerfeld for Chanel spring summer 2013 haute couture press kit