Charles River Museum of Industry–Steampunk: Form and Function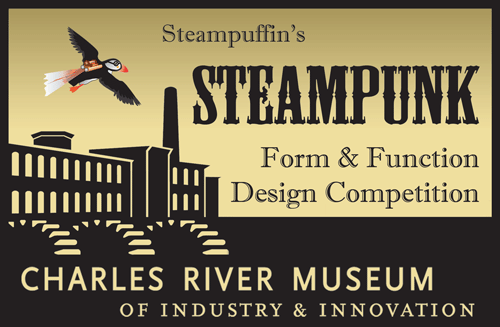 [The following is a press release for an event at the Charles River Museum of Industry in Waltham, Massachusetts – Jake]
An Exhibition of Innovation, Invention and Gadgetry
At The Charles River Museum of Industry and Innovation's new exhibit Steampunk: Form & Function – An Exhibition of Innovation, Invention and Gadgetry, sponsored by Steampuffin (www.steampuffin.com), modern technology meets the Victorian era.
Inspired by the works of authors like Jules Verne and H.G Wells, and grown out of the world of science fiction, Steampunk has become a cultural phenomenon like that of the punk rock movement of the 1980's or the goth movement of the 1990's.
. . .
Supporters of the movement describe Steampunk as an alternate history where modern technology and Victorian life meet. At its core Steampunk asks the question, what would the world look like if modern technology were available, when steam power was king, corsets were mandatory and man was learning to fly? Since its inception in the 1980's, the movement has infiltrated mainstream fashion, art, interior design, literature, technology and entertainment. Elements of the movement can be seen on the runways of Paris, in home design stores across the country, in Hollywood productions and on gamers' screens.
The Charles River Museum of Industry & Innovation is the first museum in the country to feature an exhibit solely dedicated to the Steampunk movement. Steampunk: Form & Function offers an informational and interactive look into the world of Steampunk and all that it encompasses including fashion, literature, entertainment and much more. On display, visitors will find modern Victorian clocks, a spinning wheel that generates power, GPS and iPods devices with gears and gages, and a computerized carriage. They can play a game of interactive pinball and use Victorian Steampunk computer stations to discover the origins of this technological Victorian and Industrial world.
Encompassed in the exhibit are over thirty works of art from some of the world finest Steampunk artists and amateurs. The artwork was submitted earlier this fall to the Museum's Steampuffin Steampunk Form & Function Design Competition sponsored by Steampuffin and ModVic (www.modvic.com) Victorian Home Restoration and Steampunk Home Design. Each submission uses authentic Victorian or Industrial era antiques and incorporates modern technology into them to create a new functional Steampunk work of art and appliance.
Competition winners will be announced the exhibit opening reception on October 22, 2010, from 5 pm to 11 pm. Admission to the reception is free and light refreshments will be served. Required reservations may be made by calling 781.893.5410 or by emailing info@crmi.org.
Steampunk: Form & Function opens October 22 runs through May 10th, 2010. Admission is $5 for the general public and $3 for seniorsstudents; admission is free for children under six. The Museum is located at 154 Moody Street in Waltham, MA 02453. For museum hours more information visit http://www.crmi.org or call 617.893.5410.
About the Museum: The Charles River Museum of Industry & Innovation is located on the scenic banks of the Charles River in the 19th century Boston Manufacturing Company textile mill complex, on the National Register of Historic Places as America's first factory. The historic site has exhibits that allow visitors to explore the inventions that powered America into the modern-age – steam engines, generators, timepieces, machine tools, bicycles, automobiles, and hundreds of other innovations. The museum also offers a memorable backdrop for unique social or corporate events and functions. For more information, please visitwww.crmi.org.
# # #
For more information please contact,
Elln Hagney at elln@crmi.org
or by phone: (617)-823-5081