Custom Glass iPhone Backs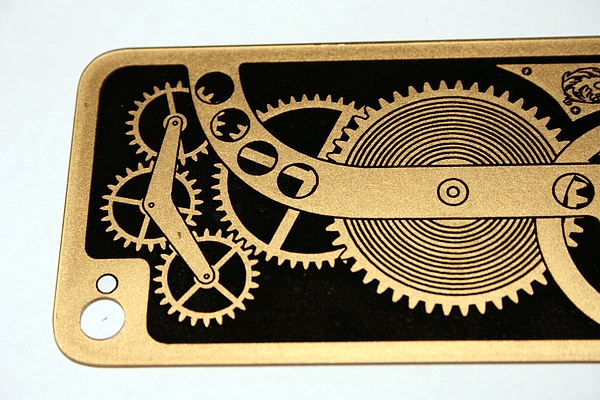 Make your own custom iPhone back glass images!
I figured out how to separate the glass panel from an iPhone back and put any image on it.
What follows is my step by step howto for transferring a laser printed image to the inside of the glass back on an iPhone 4 or 4S and the story of how I started out trying to make the back out of brass and why that turned out to not be a good idea.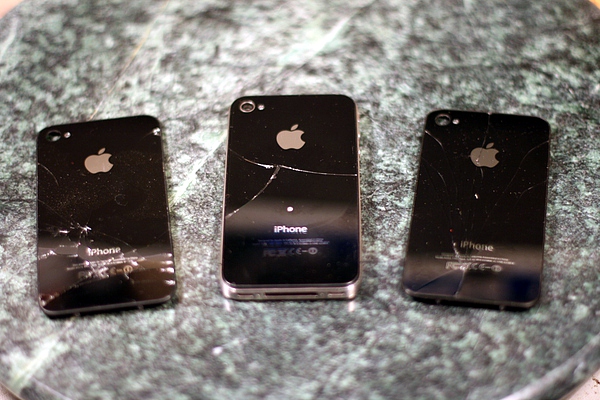 I kept breaking the glass back on my iPhone so I decided to see if I could replace it with something beside the standard black Apple logo'd back. The first thing I needed to do was remove the broken glass from the phone's back. This turned out to be fairly easy using heat–but more on that later. The next thing I needed was a way to cut the iPhone back glass shape out of brass, for I wanted to make an etched brass plate for my phone.
I made careful measurements of the glass and wrote some GCode for my CNC mill. I ran the code, compared the results, tweaked it, and re-run about four times before I had a perfect fit. The hardest part was figuring out the radius for the corners, quarter circle arcs are amazingly hard to eyeball!
The camera lens is easily removed and glued in place an I used this clear resin to cast the flash window into the brass.
Once I had it down I cut a .035″ thick piece of scrap brass and glued it onto the back. It looked and felt great but I lost 2 bars of signal! Clearly, this was not going to work.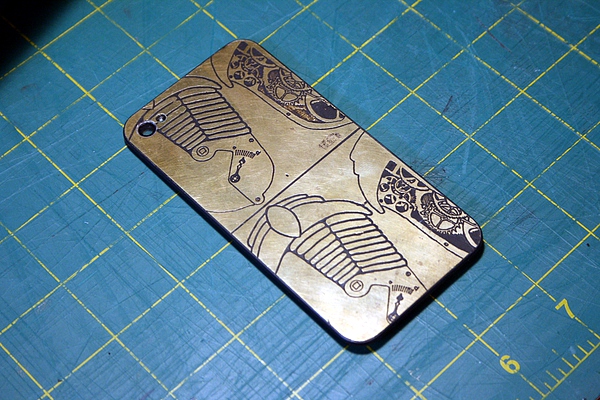 Here's the GCode:
( 1/8″ End Mill @ 4000 RPM)
G03 X.4126 Y4.1362 I-.1313 J0 (Camera lens)
G01 X.5306 Y4.1362 (Flash LED)
G00 X-.0625 Y0 Z.25 (Back to 0.0625,0 start cutting back)
G02 X.3125 Y4.4285 I.3125 J0
G02 X2.2 Y4.1160 I0 J-.3125
G02 X1.8875 Y0 I-.3125 J0
I had been planing on etching the brass plates using a toner transfer method and I wondered if it would be possible to transfer the toner image directly to the glass iPhone back without breaking it, so I did a test piece and it came out great!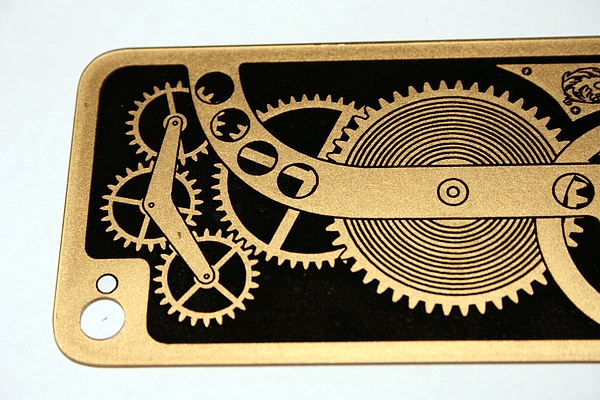 This steampunk design was drawn in InkScape, printed on transfer paper, and the laser printer toner fused to the back of the iPhone glass with a layer of gold paint sprayed on behind it.
Here's how I did it:
I ordered the iPhone replacement backs from Amazon, the are 3 types: iPhone 4 AT&T, iPhone 4 Verizon, and iPhone 4S. The process for modifying them is identical.
With an X-acto knife I gently pried off the camera and the flash diffuser. The action for removing the diffuser is more of a "cut-under" than a "pry-off."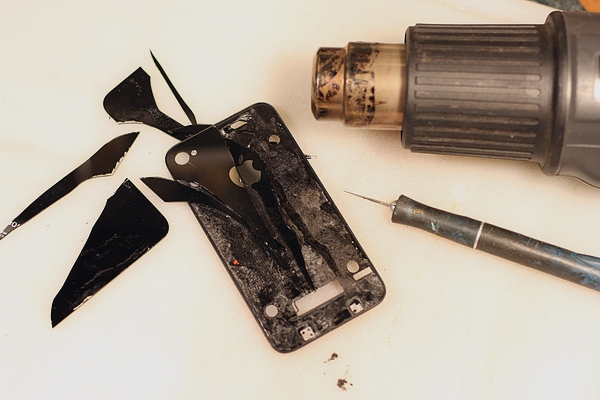 Then I heated the glass to weaken the double-stick membrane that holds it to the plastic back. I had success with a heat-gun set to medium hot, being careful not to melt the plastic. My heat gun was set to 360 degrees Fahrenheit.
I began by pushing down with a popsicle stick or tongue depressor on the plastic part right at the edge of the glass. Then worked the stick in and added another and slowly slide them across the gap between the glass and the plastic. I re-heated often, letting the temperature do the work.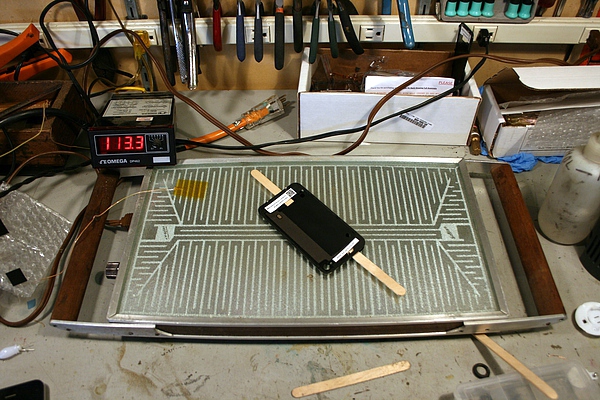 Even easier than the heat gun was this dish warmer which warmed to a little over 100 degrees Celsius. It takes two to three re-heats to get the glass off cleanly and when using the dish warmer I could quickly do 5 backs in a row, working each until it cooled and then moving on to the next. The steady temperature also ensured that the plastic parts of the back did not melt.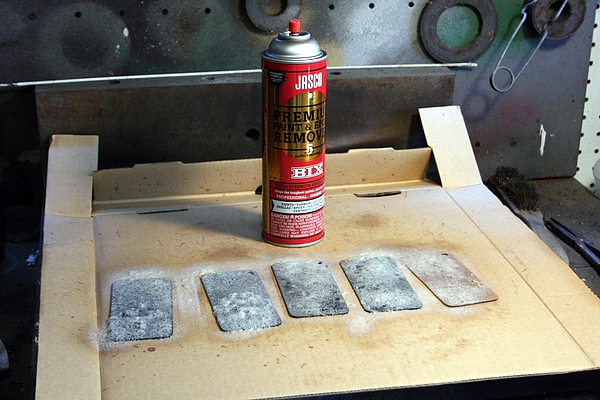 Next I stripped the paint off of the backs with Jasco Epoxy Remover. The paint on these things is very tough and I had to really scrub it off with steel wool and stripper. If you try this wear stripper gloves and eye protection and be careful not to scratch the glass, it's thin enough so that a scratch can cause it to break later.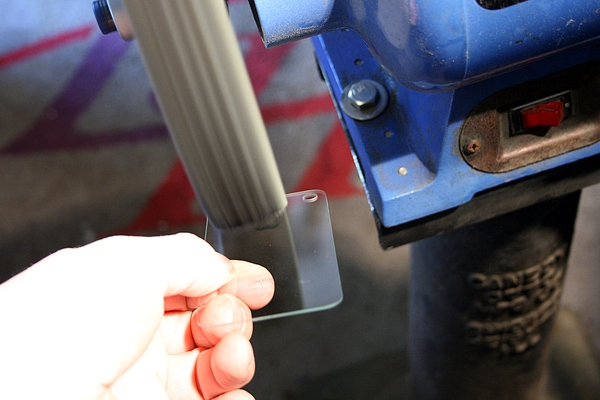 A buffer usually takes the Apple logo off quickly. I say 'usually' because there were a few backs that I could simply not get clean. The metallic logo is diffused into the glass itself with some sort of vacuum deposition process.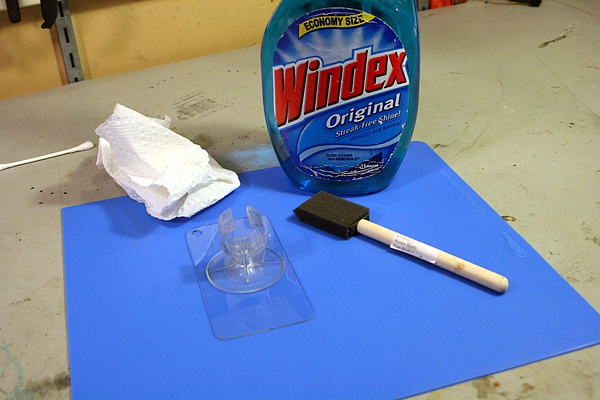 I used a suction cup to help me handle the backs without getting finger prints on them and I highly recommend silicon baking sheets as a work surface for thing that have to stay really clean.
I made the artwork up in InkScape and printed it on transfer paper. I tried a whole bunch of different things but settled on that glossy newsprint flyer paper that the inserts in the Sunday newspaper come printed on for pure black and white images (See here for how to get it through your printer) and Press-N-Peel Wet for any images with shades of grey or color in them.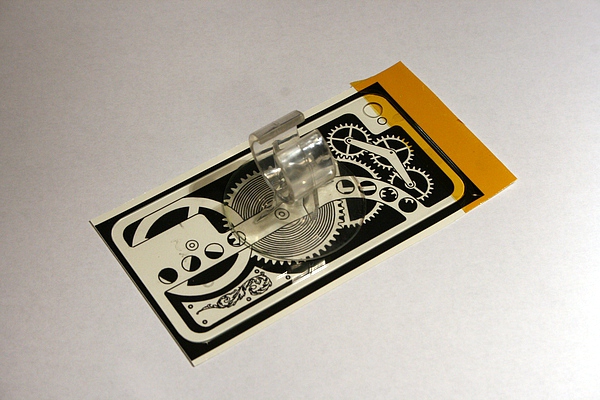 Using the suction cup I aligned the glass back with the image and secured it with a piece of Kapton high temperature tape.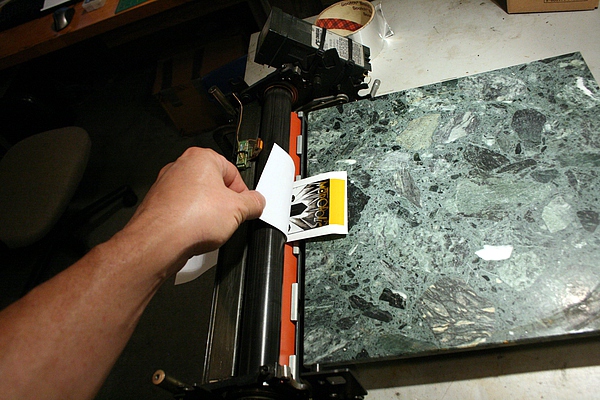 Next I covered the transfer paper and back with a piece of plain paper and rolled it through my heat rollers. This is basically the fuser form a 1980's Xerox machine that I removed and added a solid state relay and industrial temperature controller to.
I'm sure an iron would work for this if you follow the techniques here just be careful to heat the glass evenly and do not overheat it.  Also you'll want to do it on a hard surface, not an ironing board. Perhaps a piece of wood protected with one of the aforementioned silicone baking mats.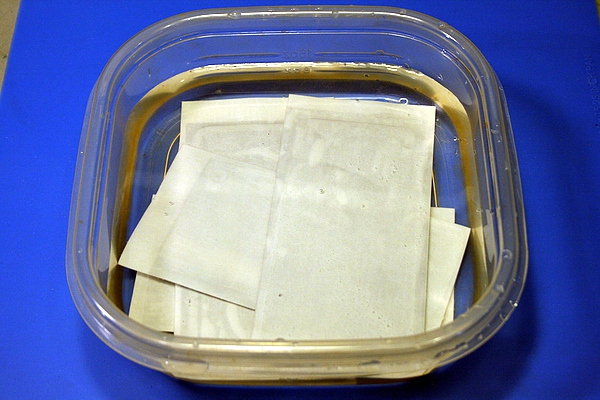 The paper simply floats off after soaking the Press-N-Peel Wet in warm water.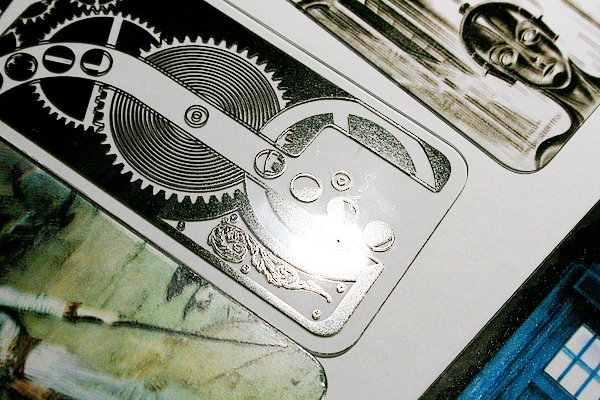 This is what the toner on the glass looks like.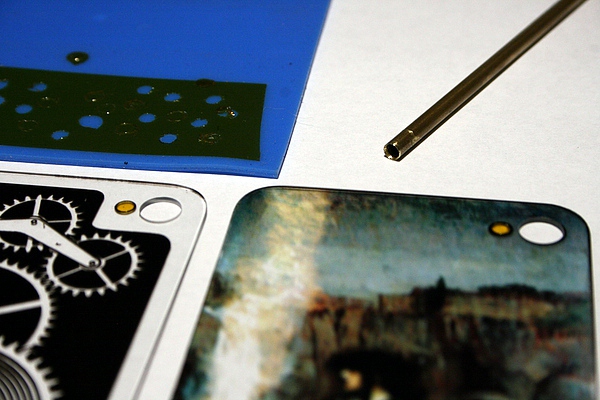 Next I sharpened a piece of brass tubing and cut little circles of Kapton tape to mask the flash window from the backing paint.
This design required both silver and gold paint so I carefully brushed in the silver before spraying the back with gold.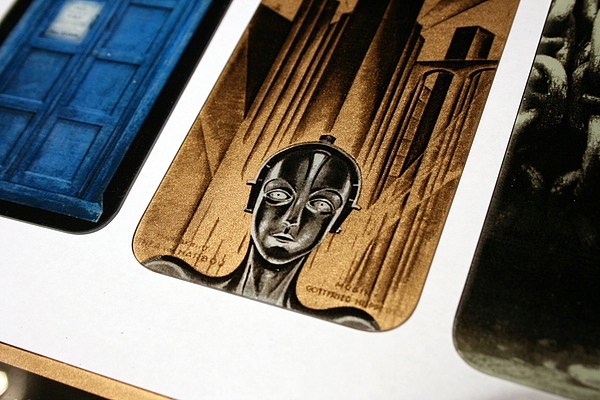 I think this is my favorite, it's a promotional poster for the movie "Metropolis."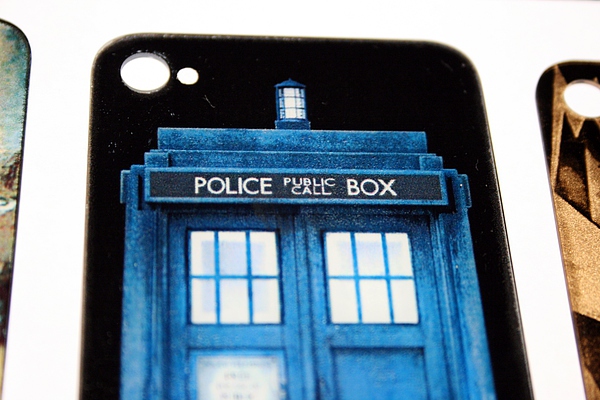 All of the full color panels are backed with white paint.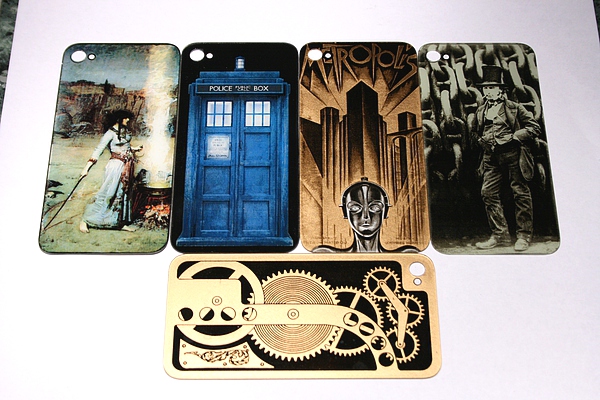 The full set. The one of Isambard Kingdom Brunel is backed with a light green paint. I tried silver to make it look like a daguerreotype, but it was too dark.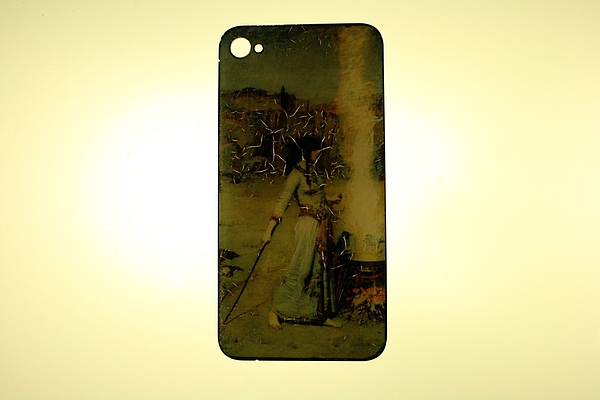 This shot was taken on my light table.  Krylon flat white spray paint interacted with the toner and made these cracks, they are not visible on the mounted back, but I thought they were interesting. Rustoleum white primer did not have this problem but takes 24 hours to cure.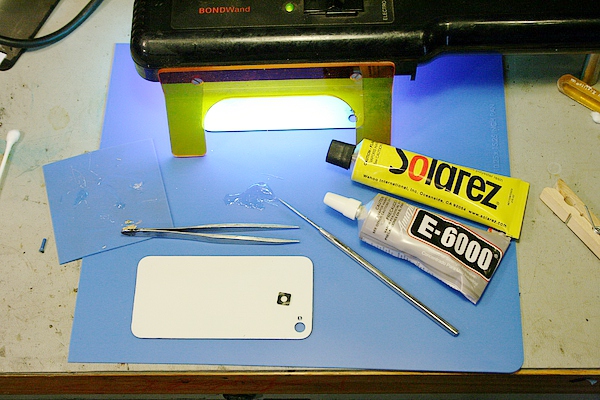 Finding the right glue to re-attach the flash diffuser was a challenge. I settled on this Solarez UV cure surfboard repair putty. It has glass fibers in it but you can easily get a fiber-free drop on the end of a tooth-pick to secure the diffuser. If you don't have a UV curing lamp you can just put it in the sun for about 10 minutes. E-6000 industrial cement was perfect for reattaching the camera lens.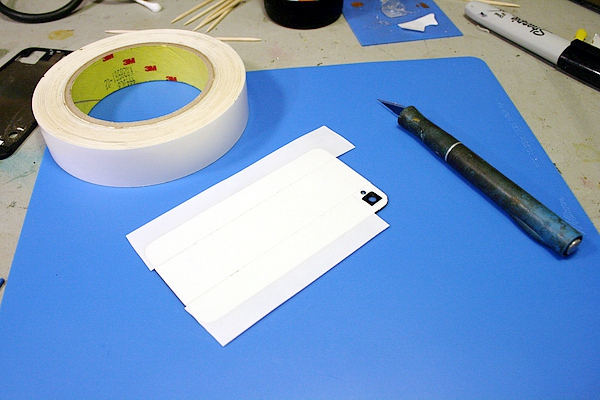 To re-attach the glass to the back I used this 444 3M double-sided adhesive film tape. It's essentially the same thing in roll form as the die-cut piece originally used by Apple (or the third party replacement part manufacturer).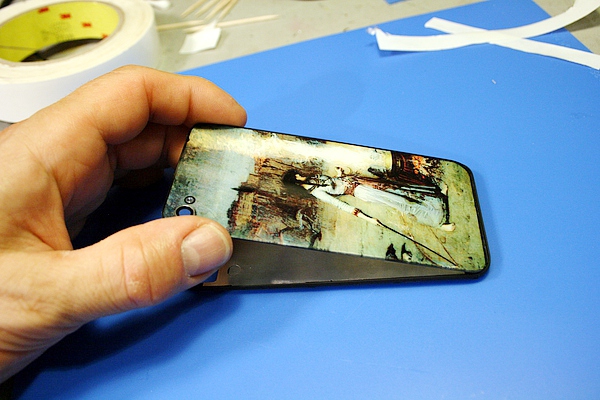 These tapes stick instantly so be careful with alignment but they take a minute or so to fully bond.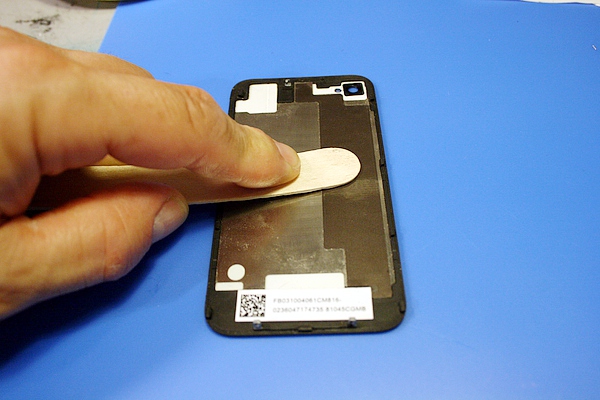 Making sure the back, glass, and tape are happily married.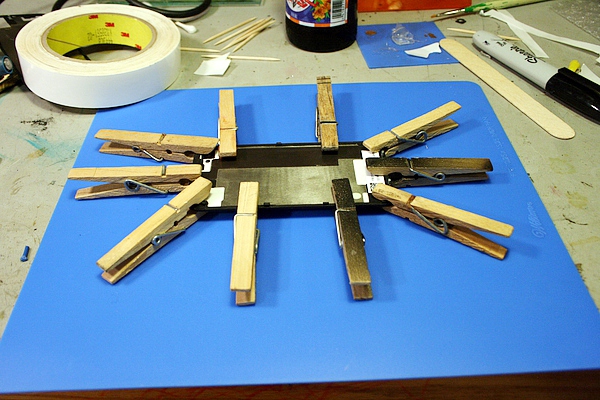 Since the edges are the hardest to bond I used clothes pins for 10 minutes or so to clamp the pieces together.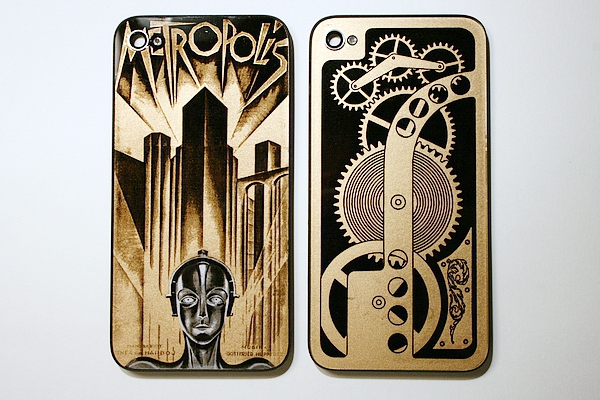 The black and white and grey scale pieces backed with gold and silver paint.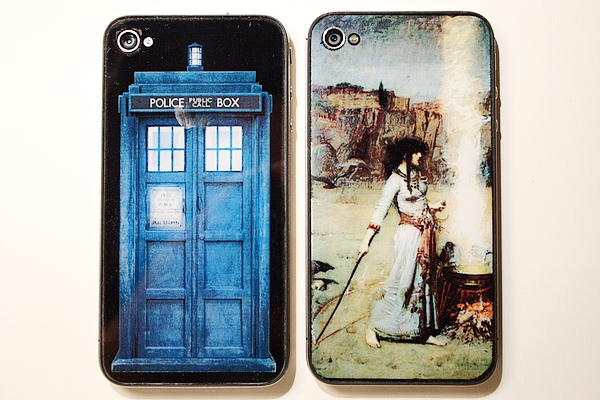 Full color pieces backed with white paint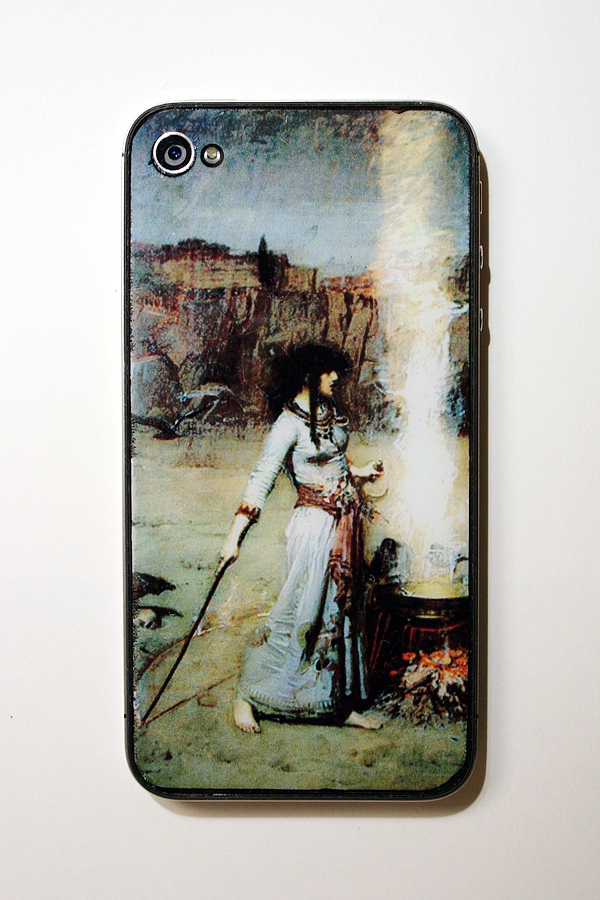 Waterhouse's Magic Circle, This one is for my phone. I love Waterhouse's work very much and I have a bit of a thing for witches in general.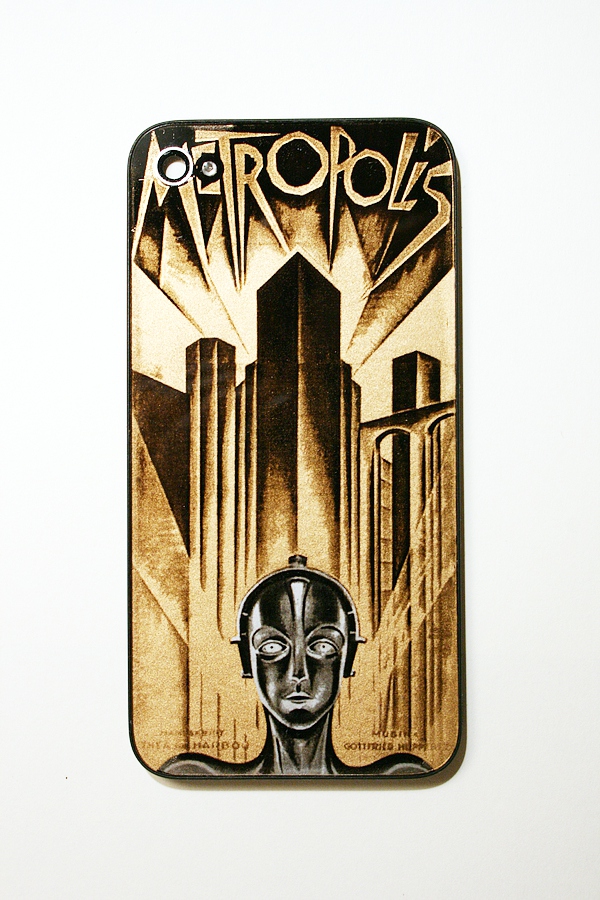 Metropolis! For my bro, Libby Bulloff.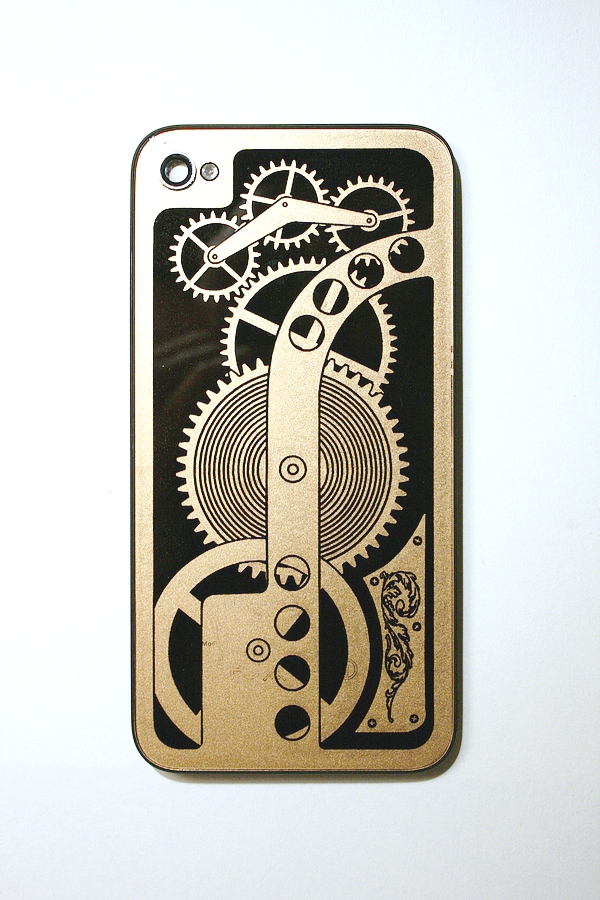 This particular one is for my bestie Nathaniel Johnstone! This is my own original art, if I were to make these for sale, would you be interested? Follow me on Twitter and I'll let you know when I put them in my Steampunk Workshop Etsy Store.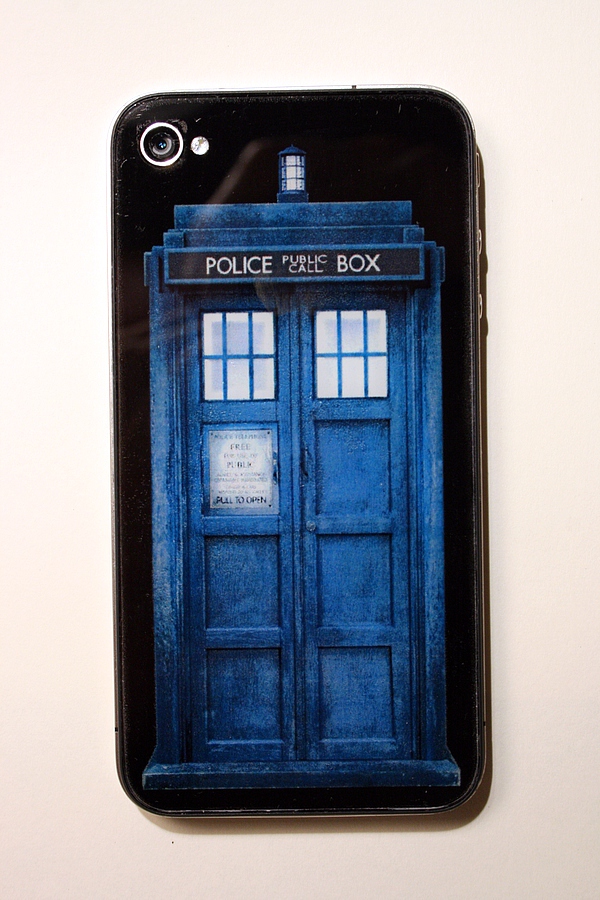 Police boxes are cool, for my daughter Lyra.