Steampunk Car Update – Catalytic Converter on an Aircooled VW Motor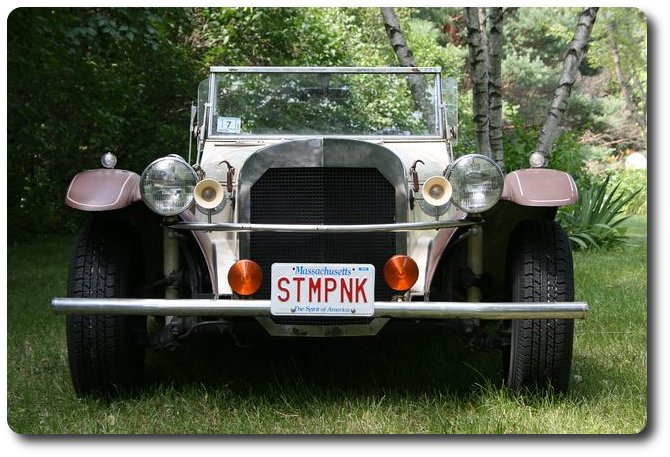 Lots of progress! She's on the road, registered, inspected, and passed, including emissions which is pretty cool considering that she's basically a 1972 VW Beetle that was re-titled in Ohio as a 1985 "assembled vehicle." A close read of the Massachusetts auto emissions law would seem to indicate that a kit car of this type should be tested under the make, model, and year that the chassis was manufactured. However, the test station can only test to the make, model, and year the vehicle is registered.
Since this vehicle was titled as a 1985 in Ohio that's the only thing that our RMV would let me register it as. They told me I'd have to go to Ohio's DMV to get it changed – but under Ohio's rules, it's correct! Classic Catch-22. Read on to see what I did.
Oh yes! and I got Mass plates STMPNK no less!
As I mentioned earlier the reproduction Ford Model "A" tail lamps I bought were not Department of Transportation (DoT) approved so I added a pair of these LED truck tail lights to the rear valence. They are very bright and since they're LEDs they come on a bit quicker then the incandescent tail lamps and that 1/10 second could mean the difference between a scare and whiplash!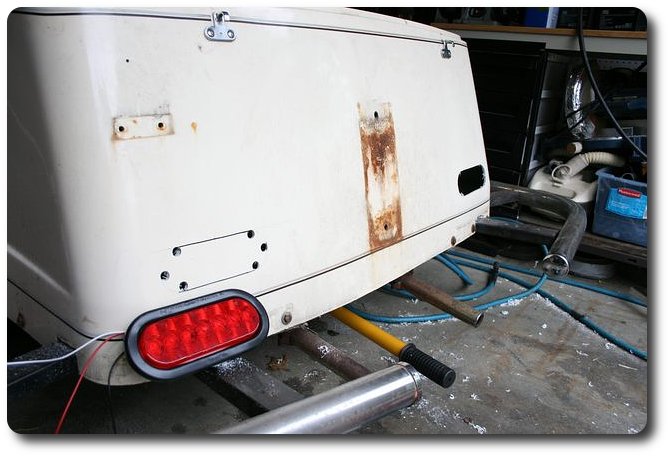 My earlier efforts with the carb got most of the gum out but there were still some bad gaskets so I got a re-build kit from AirCooled.Net and completely rebuilt the carb.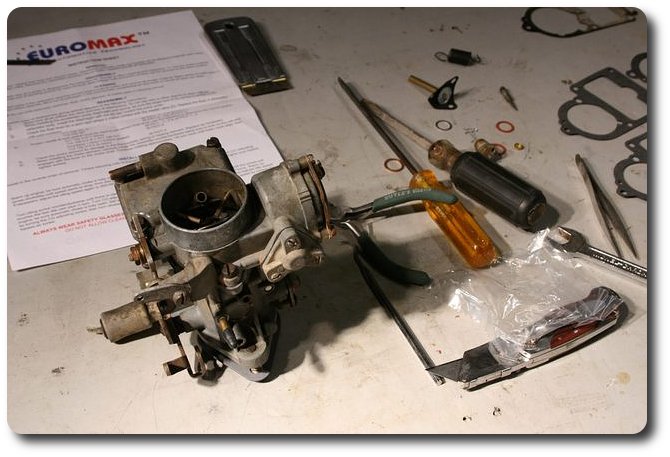 I also picked up a side mirror from my awesome local auto parts place. The original mirrors were badly placed. In fact, the driver could not even see the right side mirror! Below the mirrors are the LED side marker lights I added and the spot where the old mirror was mounted is now reserved for a brass coach lamp.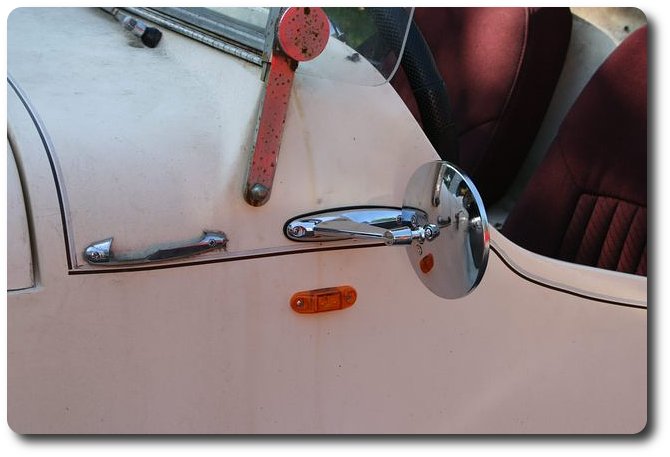 Even with the correct wheel offset the fender clearance on the right side was tight. Some careful measuring and I discovered the the right side fender was not centered on the wheel! I drilled the pop rivets and relocated the fender solving the interference problem.
And now we get to the emissions fix. By 1985 cars had a host of gadgets and do-dahs to clean them up but the most critical component was the catalytic converter. I did some research and found that universal three-way cats were available for less then $100 from places such as J. C. Whitney. I ordered one along with a BugPack exhaust header and then dropped by my awesome local auto parts place (Acton Auto Supply in Acton, MA) where they let me wander around the warehouse choosing a likely muffler and bits of pipe to cannibalize for my custom installation.
Of course when I went to remove the old exhaust all of the exhaust port studs broke off! Ah, VWs, It's all coming back to me now.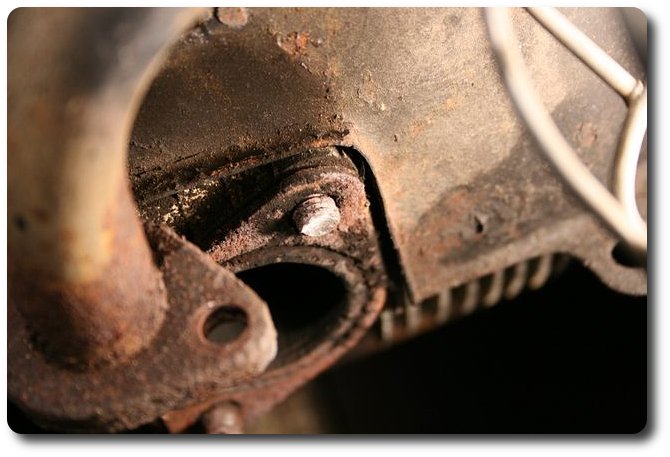 It is simply not worth it to try and drill exhaust studs with the engine in the car. You'll break your back and likely muck up the heads. I pulled the engine in about half an hour, woefully short of the 12 minutes it used to take me when I was in form!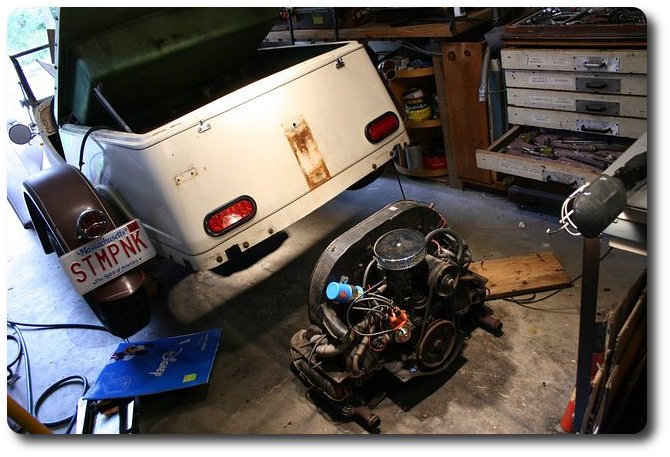 Oh! Here's a VW Type III motor from a Squareback that my father-in-law gave me. It has a pair of Solex carbs which I may put on but I would much rather trade them for a set of Type III fuel injection components which I would run with the open source Megasquirt engine computer.
Write me at jake@vonslatt.com if you have any old Type III FI stuff kicking around!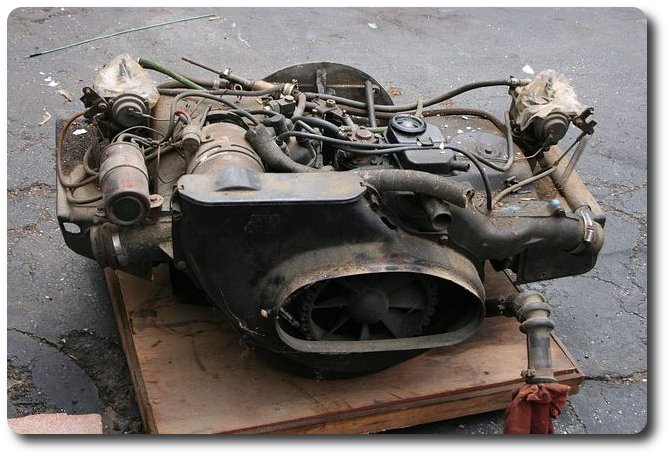 Fresh exhaust studs installed! Basically you cut the stud off close to the head, center punch EXACTLY in the center and then drill the stud out with larger and larger drills. However, you do not want to use a drill with a diameter larger then the threads. Once I clean out the hole I use a CV joint bolt from an old VW Rabbit that has three 'V' grooves cut in it with a file to chase the hole, unlike a tap if you break it off in the hole you can drill it out. If you break off a tap in the hole . . . just don't, OK?
Since I had the engine out I also took the oppertunity to replace the rear main seal since it was leaking.
Here's the BugPack header on the engine as it goes back into the car.
I made up the new exhaust system piece by piece. I set each component on a scissors jack and then cut and trimmed bits of pipe to connect them, tacking them with the MIG welder.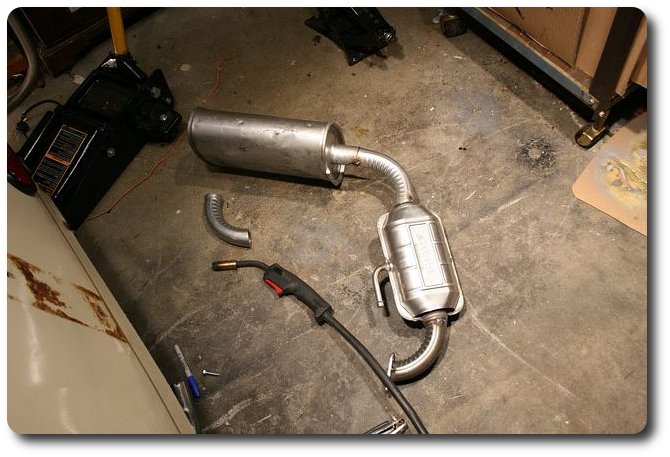 Once everything was fitted I took the assembly out and welded up all of the joints. The tailpipe runs along under the right side heater box and its strapped to it with a couple of hose clamps so the muffler sits just inside the body but completely supported by the motor.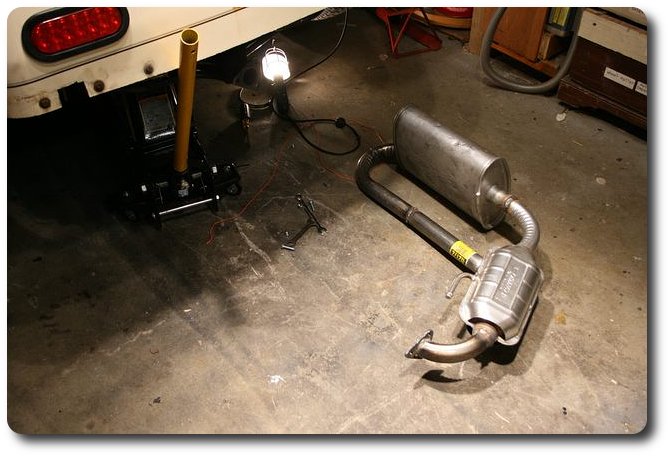 The last thing I needed to do was fit some new running boards so I made a template with foam board and cut some out of 3/4" oak.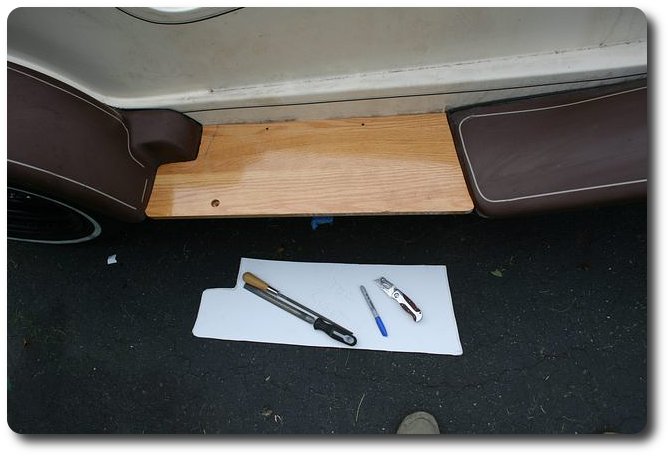 And here are some shots of the car at the completion of Phase I.
Phase II begins shortly and will consist of paint (black I think) and a whole bunch of brass bits and baubles including a fabricated brass radiator shell and some other features including a Jacobs ladder (or maybe a pair!).
Of course Phase III will be the ultimate conversion to steam power which will likely utilize a monotube boiler with a forced induction gasoline/diesel burner and a Stanley style twin cylinder dual acting engine coupled directly to the differential. I need to acquire and gut a VW transmission to see if my idea for the engine frame is going to work.
Stay tuned!