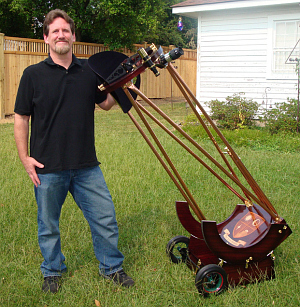 Most of the things that I make, with the possible exception of the Wimshurst Machine I recently completed for an article in Make: Magazine, best fit under the category of "prop" rather than "instrument." That is clearly not the case for this telescope as it is surely as capable an instrument of science as it is a true beauty!
Ross writes:
I've always found your website an inspiration. Here is one of the products of that inspiration: a large steampunk-style reflecting telescope in mahogany, brass, and copper. The telescope won awards in craftsmanship and in mechanical design at last summer's Stellafane conference in Vermont, the world mecca for amateur astronomy.
I have more pictures (at full scale) at:
http://www.flickr.com/photos/8315630@N04/
The Stellafane site has a few more pictures, about half-way down the page:
http://stellafane.org/convention/2008/2008scopes.html
Best,
Ross Sackett, Ph.D.
One more gorgeous shot under the cut and the rest at Ross' Flicker! Thanks Ross!