The Museum of Jurassic Technology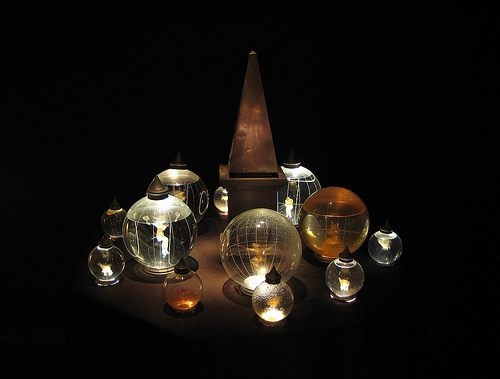 Hidden somewhere in Los Angeles is a remarkable place: a museum, of sorts, but more of a walk-through enigma. The building itself is identified only by a standard 'Museum' sign outside. Just chancing by, you could never guess what's inside: this is the Museum of Jurassic Technology.
Entering, the whole museum has it's lights lowered far beyond what even the most delicate artifacts could possibly require. You entered a nondescript, plain looking building, but the interior…It's bigger on the inside. And far, far older.
The exhibits themselves don't make any sense per-se, reading like specialized text from some obscure and outdated profession. Having a logic all their own (and for you to try to figure out) the museum goes on through dark corridor after winding staircase, far larger than you could have guessed from the outside. Nonsensical scientific experiments, fragments of history, and a lush foyer dedicated to the brave canine cosmonauts of the Russian space program..its like having your brain reset by overloading it with nonsequiturs- which is needed after a few days braving the pavement in LA.
As hard as I try, I cannot explain this place- which is a good thing. If you find yourself in the city of angels anytime soon, make the special trek out to see some good, old fashioned, American hard boiled eccentricity.