The Future of SteamPunk Fashion — SteamPunk Magazine #7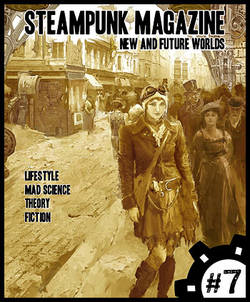 Our own Libby Bulloff has a wonderful article in the current issue of SteamPunk Magazine. Libby makes the case for what needs to happen for Steampunk to become a sustainable style rather than mere and fleeting fashion.
Within, she examines current trends in Steampunk dress and warns that:
We're no better than our wealthy, trendy, hipster counterparts when we cease the continuous metamorphosis of our look, when we won't fearlessly model our style at our desk jobs . . .
I think she hits the nail on the head.
SteamPunk Magazine is available in print through Strangers in a Tangled Wilderness in the Americas and Vagrants Among Ruins for the rest of the world, and can also be downloaded for free from their downloads page. Available for the first time is an iPhone/eReader version for 1£. This is the version I bought and I love having it on my phone.
Also featured in this issue are pieces by Jaymee Goh of Silver Goggles and Ay-leen The Peacemaker of Beyond Victoriana who did me the great honor of inviting me to sit on their Social Issues in Steampunk Roundtable panel at the upcoming Steampunk World's Fair!