Books: Jeeves and Wooster – P.G. Wodehouse
I will be blunt. Jeeves and Wooster is brilliant. Well, sort of. Jeeves is brilliant. Wooster is a complete idiot. It is off this dichotomy that Life With Jeeves, a three book omnibus by P.G. Wodehouse containing The Inimitable Jeeves, Very Good, Jeeves!, and Right Ho, Jeeves, is based on. The three books were written and take place in 1930's London and concern themselves with Bertram Wilberforce "Bertie" Wooster and his 'gentleman's personal gentleman' (which is to say valet), Reginald Jeeves (almost uniformly referred to as, simply, 'Jeeves').
Bertie Wooster is a young minor aristocrat, a member of the idle rich who spends most of his time either in hi-jinx with various friends and family, traveling (though usually reluctantly) or at his Gentleman's club, The Drones. He is, to be frank, a complete moron, though cheerfully so. Despite this mental handicap he is a intensely likable fellow, if only to the readers.
. . .
Jeeves is Bertie's valet (differing from a butler in that a butler serves the gentleman's house, where a valet serves the gentleman's person, though, according to Bertie "If the call comes, he can buttle with the best of them"). He is phlegmatic to a T, improbably well informed on almost any subject, and more or less in complete control of every aspect of his young master's life.
The book itself is a collection of novelettes, containing a dozen or so short story arcs that are more or less independent, though most reference each other quite frequently, and many characters cary over from arc to arc. Bertie stumbles through every story with a confused but confident gait that is delightful and hilarious to read, from indomitable Aunts to newt loving school chums. Bertie manages to more or less cock up everything he touches, only to have the problem quietly but brilliantly solved by Jeeves in the end.
The entire thing is written in the first person from Bertie's view point, and as such is narrated in his distinctive speaking style. That Wodehouse is able to keep the feel of a vacuous London socialite, complete with nonsensical colloquialisms (well I guess they make sense to Bertie), irrelevant tirades, and illogical thought trains going without it getting distracting or irritating is impressive. That you are able to clearly understand what is going on through all of this is truly a testament to Wodehouse's skill as a writer. The end result is that you are able to see the disparity between what is really going on and how Bertie sees it.
All in all Life With Jeeves is a brilliant, hilarious, and easy to read novel that I highly recommend. A perfect airplane or vacation novel to replace the normal drivel we all find ourselves wading through.
[Jake here – My apologies for injecting a note concerning that most crass of all media, Television, but I feel I would be remiss in not mentioning the wonderful British (ITV) series of Jeeves and Wooster staring Hugh Laurie and Stephen Fry. Here's a sample:
Yes that is Dr. House! I have read both the book and watched the series and neither is in any way diminished by the experience of the other! Again, my apologies to Sigmund for the interruption!]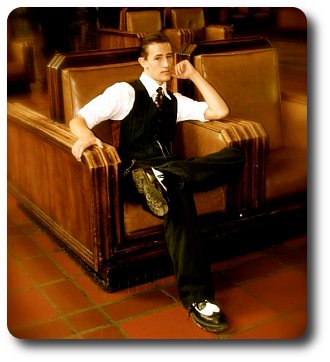 About the Reviewer:
Sigmund A. Werndorf is a Los Angeles born student residing in San Francisco California, where he can be found hunting down antiquities and curiosities, passionately pushing the boundaries of radical culinary experimentation, exploring the dangerous world of modern music, and writing reams upon reams of papers that no one actually reads.
He is also curator for the correspondences of Johan B. Hackworth.