Today! Wayfarers of the Gypsy Mansion in Seattle
Those masterful mavens of music promotion,


Bulloff

and Brugh Present: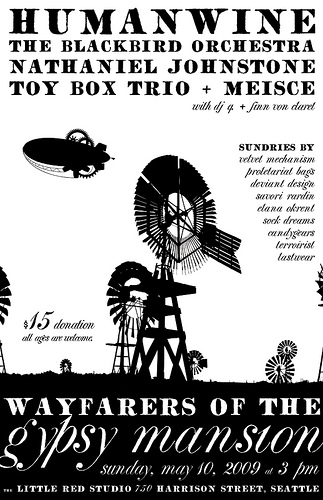 WAYFARERS OF THE GYPSY MANSION – a musical bazaar of sorts
with HUMANWINE, THE BLACKBIRD ORCHESTRA, NATHANIEL JOHNSTONE,
TOY BOX TRIO, MEISCE, FINN VON CLARET, and DJ Q.
Sunday, May 10, 2009 3 pm to 10 pm
The Little Red Studio
750 Harrison Street, Seattle, WA
ALL-AGES, $15 donation
Wearables, craftables, and edibles provided by a plethora of local and regional artisans. We will take a dinner break (with DJ) at 6:30 pm – please bring your own sack meal, a picnic to share, or food can be acquired from two of our vendors. Vegan options available. Adult beverages can be purchased by 21+ individuals.
Willow and Libby are justifiably excited about bringing HUMANWINE to Seattle! Friends from Sock Dreams will also be arriving from Portland to vend excellent foot/legwear.
Larger poster is here. Leave a comment here if you'd like to help out at the event or hang flyers–Libby has an 11×17 hi-res PDF in the wings for print-yr-own. Spread the word. All are welcome.
These are the times, my friends. And these are the days. Where the world becomes malleable, palpable. When novelty and genius are within our reach. We are cautioned against being passionate about these things by tales of progress turned to greed and of technology turning on us. And yet, the golden light is just right, the clocks are synchronizing, the stars are in alignment.
This is what we celebrate tonight. We celebrate these transient times, with these transient artists.
– c. lantz

[You may remember HUMANWINE from Make:TV Episode 103 which you can view after the cut – just skip ahead to 7:50, no need to sit through any of that other guy, again. This looks to be an absolutely AMAZING event and I desperately wish I could be there! – Jake]